From their website, "Running since 1993, Intersect Chicago takes place annually at Chicago's Navy Pier, and focuses on three-dimensional artworks that cross the boundaries of fine art, decorative art, fiber arts, and design. Through art, and the diverse voices of their exhibitors and artists, they encourage discussions which promote social awareness and foster positive change."
SAQA is delighted to have this opportunity to have our member artwork displayed at this prestigious venue. It is also an unparalleled opportunity to present to the art world elite the contemporary viability of fiber as a fine art medium.
Unfortunately, Intersect Chicago 2021 was canceled by the organizers. Please scroll down to view details about the selected pieces and check out the videos below:
Juror Barbara Smith talks about the selected pieces
Textile Talks: Conversations with the Artists (part 1)
About the Juror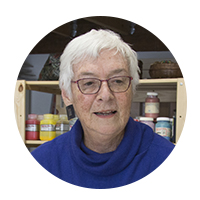 Barbara Lee Smith is an artist (MFA Mixed Media), writer, educator, lecturer and curator. During her long career, Smith has exhibited her work and taught in the United States and Canada, Europe, Mexico, Asia, Australia, and New Zealand. She is the author of Celebrating the Stitch, which helped put contemporary embroidery on the art world map.
Smith's work is in the collections of the Renwick Gallery, Smithsonian Institution, Indianapolis Museum of Art, Racine Art Museum, Tacoma Art Museum, as well as university, corporate, and private collections around the world. A lengthy interview is part of the Archives of American Artists. Smith lives and works in the oldest commercial building in downtown Durham, NC.