All living creatures need a safe place to heal, regroup, rest, or retreat. Do you nurture your loved ones in a special place? Do you create a haven for others in need? What is your haven? 
Exhibition Benefactor
Frank Klein
Exhibition Schedule
International Quilt Festival, Houston, Texas: November 1 - 5, 2022
Original Sewing & Quilt Expo:
Atlanta - Duluth, GA | March 9, 10 & 11, 2023
Lakeland, FL | March 16, 17 & 18, 2023
Cleveland - Akron, OH | April 13, 14 & 15, 2023
New Orleans - Kenner, LA | May 4, 5 & 6, 2023
Dallas - Irving, TX | Aug. 17, 18 & 19, 2023
Fredericksburg, VA | Sept. 28, 29 & 30, 2023
Nashville - Lebanon, TN | Oct. 5, 6 & 7, 2023
Cincinnati - Sharonville, OH | Oct. 12, 13 & 14, 2023
Detroit - Novi, MI | Nov. 9, 10 & 11, 2023
Selected Artists:
Selected Artists:
Bobbi Baugh (Florida, USA) - Writing the Next Word
Anne Bellas (France) - #2_cathédrales des 100 lunes/ cathedral of the 100 moons
Pat Bishop (Wisconsin, USA) - Nest
Deb Cashatt (California, USA) - A Boy and his Imagination
Sandra Champion (Tasmania, Australia) - Imagined Places #3
Shin-hee Chin (Kansas, USA) - Sprouting
Jette Clover (Belgium) - Stitched Dialogue
Linda Colsh (Maryland, USA) - Page Turner
Shannon M Conley (Oklahoma, USA) - High Desert Garden
Jennifer Day (Texas, USA) - Caregiver
Chiaki Dosho (Japan) - The Glistening Light 3
Noelle Evans (Oregon, USA) - Blue Fern
Petra Fallaux (Pennsylvania, USA) - Broken Horizon
Helen Geglio (Indiana, USA) - Anxiety Shield: Vigil
Debra Goley (Arizona, USA) - Heart Of It
Michele Hardy (Colorado, USA) - Surfaces #22
Jean H Howard (Missouri, USA) - Sanctuary City II
Allison James (United Kingdom) - Holme Valley
Ann Johnston (Oregon, USA) - The Contact: Grove
Leila Kazimi (California, USA) - Sanctuary
Patty Kennedy-Zafred (Pennsylvania, USA) - Sand and Sea: The Children of the Canneries
Alison King (Alberta, Canada) - Once Loved
Mary-Ellen Latino (California, USA) - Urban Sanctuary
Eunhee Lee (Republic of Korea) - Green space
Paola Machetta (Italy) - Grasshopper path
Michele Makinen (Illinois, USA) - Eric
Alicia Merrett (United Kingdom) - The Summer of Magical Spells
Clara Nartey (Connecticut, USA) - Readers are Leaders
Dana Owczarek (Poland) - Dance room
Frauke Palmer (Ohio, USA) - Dream Catcher
Cindy Richard (Israel) - Put Up Your Feet and Take It Easy
Barbara J Schneider (Illinois, USA) - Line Dance, Tree Ring Patterns, var. 25
Sara Sharp (Texas, USA) - Nurture
Stephanie Shore (Massachusetts, USA) - Winter Blues
Jan Soules (California, USA) - Hillside Gems
Karen Sunday Spencer (Oregon, USA) - Daytime Dreaming
Linda Steele (Victoria, Australia) - Melbourne Malaise
Kate Stiassni (Connecticut, USA) - The Promise II
Daphne Taylor (Maine, USA) - Quilt Drawing #26
Marian Zielinski (Georgia, USA) - Shangri-la
* artists were notified via email on 03/23/2022
About the Juror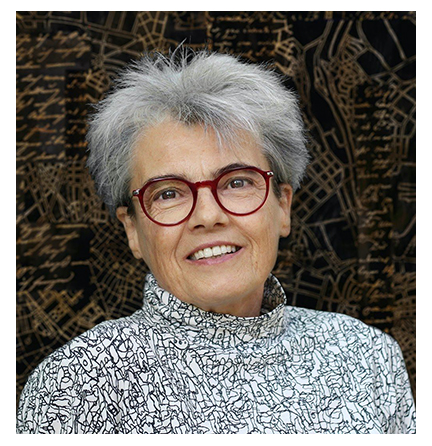 Eszter Bornemisza is a mixed media fiber artist living in Budapest, Hungary. She trained as a mathematician, earned a PhD in mathematical statistics, and worked in the field as a researcher for twenty years.
Having experience creating garments, she started making art quilts in the mid-1990's. She has been a full time studio artist since 1999 creating quilts, large scale transparent fibre works, 3D objects, and installations mainly from the ubiquitous material of waste newspaper and vintage cloth. Her work is based on experimentation and research. The basic process of creation is machine stitching with additional elements of print, dye, and paint.
Bornemisza's work has been widely exhibited in both juried and solo exhibitions throughout Europe, America, Australia, China, and Japan, many of which have been awarded notable prizes.
Artwork Available for Purchase
For purchase inquiries, please contact William Reker, Director of Global Exhibitions at exhibitions@saqa.art or 937-912-5009.
All artwork offered for sale is committed to completing the travel listed with its exhibition information. View terms of sale