Ever since our earliest ancestors began applying iron oxide to cave walls and their bodies, the color red has played a major role in art, rituals, and spirituality. The use of red can evoke excitement, danger, anger or love in the West. The color red is associated with purity in India, and in China it traditionally symbolizes luck. Red is also a primary color, crucial to the creation of other hues.
Exhibition Benefactor: Frank Klein
Exhibition Schedule
International Quilt Festival, Houston Texas: October/November 2023 (Exact Dates TBD)
About the Juror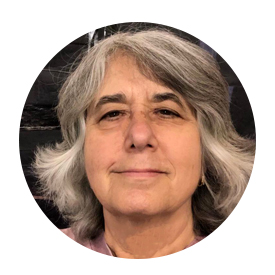 Judy Kirpich is a textile artist working in the United States. Her art has been exhibited in museums in Asia, South America, Europe and the United States. She was awarded the prestigious Quilt National Japan Prize and has garnered numerous first place and best of show awards. Her work has been seen in several solo shows and she has juried Quilt National and Quilts=Art=Quilts. Her most current work can be viewed at judykirpich.com.
Judy founded and operated a design agency in Alexandria, Virginia, for 37 years before retiring in 2015 to focus exclusively on her art. She currently works out of her studio in Lewes, Delaware where she lives with her husband David and her golden retriever Rye.
Selected Artists
Patricia Arensen (Minnesota, USA) - Lamb of God
Sara Bradshaw (Tennessee, USA) - Envy
Cheryl Braswell (California, USA) - Under A Blood Red Sky
Laurie J Bucher (California, USA) - Rain Pops
Pamela Burns (Indiana, USA) - MMIW
Rosalind Daniels (Vermont, USA) - Bucket Lips
Paula C Dean (Virginia, USA) - 32850- Big Dreams Take Grit
Chiaki Dosho (Japan) - Cocoon / Led
Petra Fallaux (Pennsylvania, USA) - Shimmering Horizon
Caryl Bryer Fallert Gentry (Washington, USA) - Siesta Cubano
Andrea Finch (Pennsylvania, USA) - Oak Leaf Vessel I: Rubrum Albus Quercus
Helen Geglio (Indiana, USA) - Wisdom Cloak: The Grandmothers
Alisa Golden (California, USA) - Magma: Undercurrents
Sandy Gregg (Massachusetts, USA) - Red Flag Warning
Debbie Grifka (Michigan, USA) - Intensity:  Dedication
Michele Hardy (Colorado, USA) - Colorfields: Rhodonite
Barbara Oliver Hartman (Texas, USA) - Help:  Blood and Chaos
Yvonne Iten-Scott (Ontario, Canada) - ORIGIN
Jill Kerttula (Virginia, USA) - Movie Time
Pat Kroth (Wisconsin, USA) - Heart of Darkness
Susan J Lapham (Virginia, USA) - Red Diamonds
Mary-Ellen Latino (California, USA) - Vintage Red Truck
Hsin-Chen Lin (Taiwan, Republic of China) - The Implication of Red
Maria Lorenzo Sachs (Colorado, USA) - A  Bunch of Red
Paola Machetta (Italy) - Heat map
Valerie Maser-Flanagan (Massachusetts, USA) - Byways # 1
Susie Monday (Texas, USA) - Tomato Invasion
Stefanie Wilson Neuner (South Carolina, USA) - Red Zone Language vs. Communication
Susan V. Polansky (Massachusetts, USA) - The Fury Of My Heart
Heather Pregger (Texas, USA) - Brûler
Irene Roderick (Texas, USA) - Red Queen
Karen Schulz (Maryland, USA) - One False Move
Stephanye Schuyler (New Hampshire, USA) - Farewell Blaze
Christine Seager (United Kingdom) - Bush Fire
Laura Shaw Feit (Oregon, USA) - Your Mother. Your Daughter. Your Sister. Your Grandmother. You.
Jennifer Solon (Ohio, USA) - Beat
Jan Soules (California, USA) - Finding Neverland # 8: All About Red
Wendy L Starn (Louisiana, USA) - What's Your Excuse?
Linda Steele (Victoria, Australia) - Autumn Song
Marianne R Williamson (Alabama, USA) - Natures Palette
** Artists were notified via email on March 15