Below are some the resources we have available for displaying and using the trunk show. Check out Trunk Show FAQs for more information as well.
Questions? Please contact us at trunkshow@saqa.com.
Available Downloads
Trunk Show Instructions
Includes information about unpacking / storing and displaying the trunk show.
Zip File
Includes Inventory Lists, Labels, and Detail Sheets for all Trunks. Download and unzip to access files.
Excel Merge File   
Excel spreadsheet with artist and artwork information. Can be used to create venue specific labels / signage
Inventory Lists
Each venue is required to inventory the trunk show pieces when received and before it is shipped back. Print this out before your trunk arrives.
Wall Labels - includes statement
Print onto cardstock - includes artist, title, and statement. Uses Avery Template 6878 (not required but helpful)
Wall Labels - small version
Print onto cardstock - includes artist and title. Uses Avery Template 5161 (not required but helpful)
Artwork Detail pages
Printable versions of each artwork along with information. Use as gallery guide or for activities.
Available  Graphics
Trunk Show Poster
Available in regular letter size (8.5"x11") in both PDF and Word formats, this poster can be used to promote the trunk show. Includes space to add your own text (venue details, regional information, etc.).
Or, download the graphics below to use in your own publication (right-click to save to computer):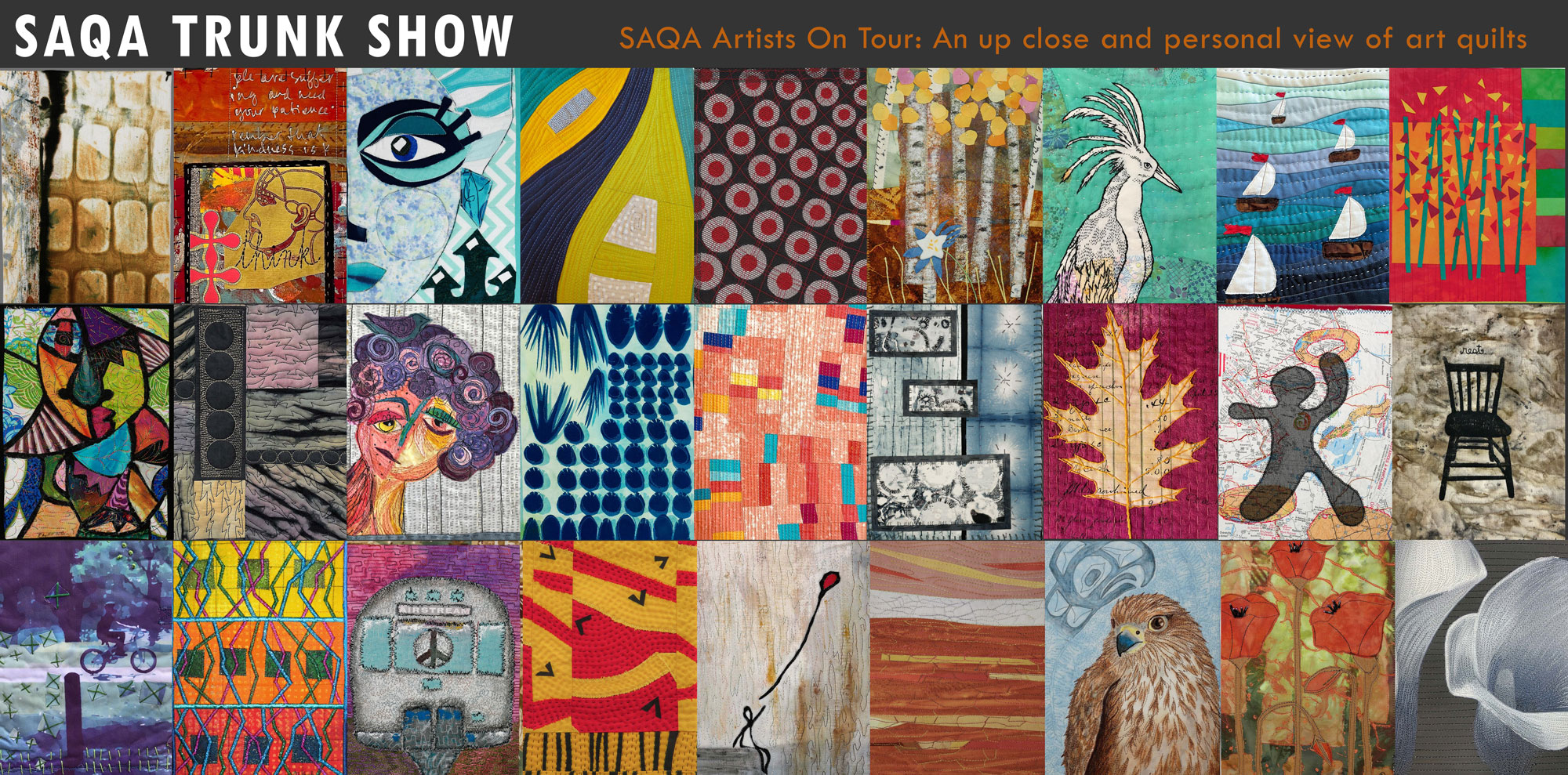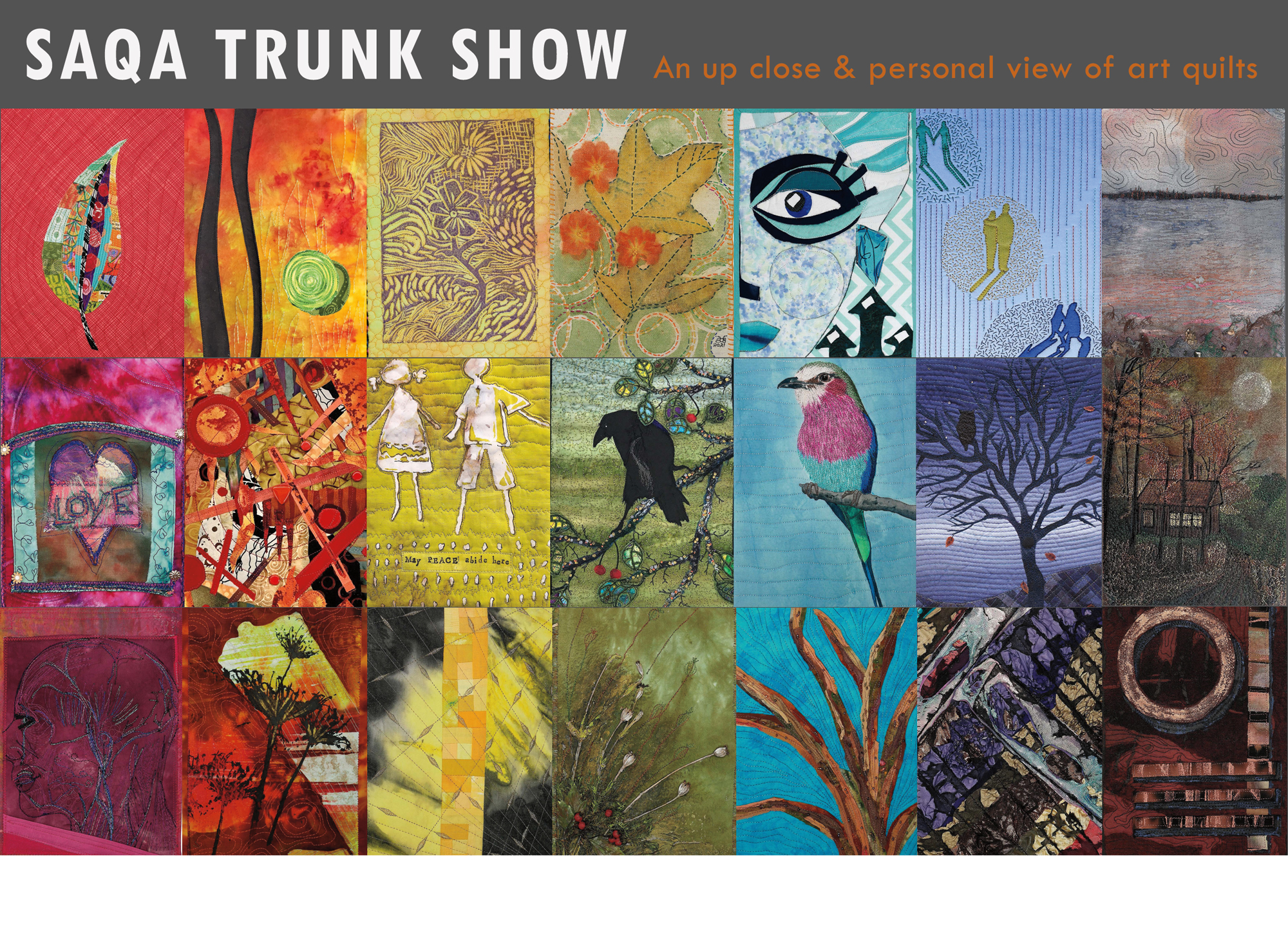 Ideas for Using the Trunk Show (in person)
There is no single way to use the trunk show – it is such a versatile exhibition. This is one of the rare times that people have the opportunity to engage closely with a work of art. People really like to hold the pieces and because they are encased in the clear bags, they can!
You can spread the pieces out on tables and allow people to view them that way. Or, you can distribute the artwork to groups and let them hold the pieces for a closer look at the materials and techniques used.
In some cases, you may want to hang the pieces for display. We recommend using 3M Command POSTER strips for this purpose – they are easily removable from both the wall AND the mat board. You can find this product in most larger chain stores. Need wall labels? Check our additional resources below.
Regional meetings
Members get to know each other's work
Show the diversity of styles, materials, and techniques
Use as an educational tool for critiquing and viewing art
Use as a jurying exercise - how to  develop an exhibition when only a limited number of pieces can be included. What artwork would you select and why?

Galleries and Museums
Introduce the art world to the art quilt as a fine art medium
Increase SAQA visibility
Engage visitors of all ages

Traditional Guilds
Recruiting new members
Giving closet art quilters a sense of belonging
Show the diversity of styles in the art quilt community
Article from Winter 2010 Journal
Written for a previous trunk show, this helpful article includes information how to use the trunk show as a teaching tool.