Gastronomy is the study of the relationship between food and culture, featuring not only the bountiful gifts from nature, but a gift from the human hand. The art of preparing unique, delicate food is a tradition passed from generation to generation, around the world. Combining innovative ingredients, colors, textures, and flavors creates dishes pleasing to both the palette and the eye.
Exhibition Benefactor
Frank Klein
Exhibition Schedule
International Quilt Festival, Houston, Texas: November 1 - 5, 2022
Ellen Noël Art Museum, Odessa, Texas: December 7, 2023 - March 10, 2024
The Historical & Cultural Society of Clay County, Moorhead, Minnesota: October 4 - December 31, 2025
About the Jurors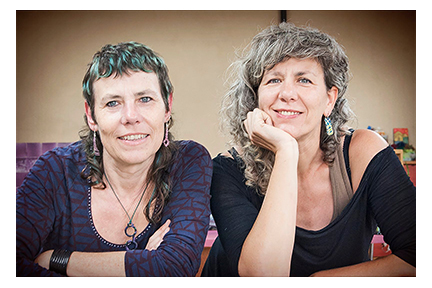 We are two sisters, Cecília and Mercè, who started silk painting 23 years ago as a hobby. We discovered something so exciting that we decided to have it become our way of life. Desedamas is our life project, it means silk and more.
In 2005, we began doing patchwork and painting on silk. The step to fiber art was easy. Maybe it was because silk painting and patchwork offer two tools that blend well and allow us to express ourselves artistically. The way we work has become very stimulating and challenges us every day.
Although we both paint and dye all kinds of silks, each of us has our own voice and make our own individual pieces. Mercè works mostly with silk organza, playing with transparencies, layers of color and subtlety. Cecília works in texture, using different qualities of silk and heavy machine quilting. Our works together have synergies, and match so well.
Selected Artists
Bobbi Baugh (Florida, USA) - More than Bread   
Deborah Boschert (Texas, USA) - Green Bowl
Betty Busby (New Mexico, USA) - Pod
Susan Callahan (Delaware, USA) - Crab Feast on the Potomac
Sue Colozzi (Massachusetts, USA) - Cranberry Bog Reflection
Linda Colsh (Maryland, USA) - A Matter of Scale
Judith Content (California, USA) - Ragamuffin Series Gingham
Phyllis Cullen (Hawaii, USA) - Bistro Cubisto
Janet Darcher (Washington, USA) - Another Chair at the Table
Jennifer Day (Texas, USA) - De Colores
Caryl Bryer Fallert-Gentry (Washington, USA) - Cabbages
Dianne Firth (Australia) - Bread
Ellen Fisher (New Hampshire, USA) - Tomatoes 2
Diana S Fox (Colorado, USA) - Who Broke the Yolk?
Jayne Bentley Gaskins (Virginia, USA) - Hunger: The Universal Cuisine
Michele Hardy (Colorado, USA) - Circles #42
Jim Hay (Japan) - "March, 1961 Breakfast" More coffee Marilyn? More Coffee Joe?
Patty Kennedy-Zafred (Pennsylvania, USA) - American Portraits: Bitter Harvest
Kathy Knapp (Ohio, USA) - Christmas Confections
Margaret Knepper (Florida, USA) - Brat Love
Patricia Knott (Utah, USA) - Lunch by the Sea at Cadaques
Jennifer H Landau (Washington, USA) - Pink Lemonade
Judy Leslie (British Columbia, Canada) - Barcelona Fruit Stand
Marisa Marquez (Illinois, USA) - Everything on the Table
Jeannie Palmer Moore (Texas, USA) - Limoncello
Laurie Mutalipassi (California, USA) - Is There Hope?
Kathryn Alison Pellman (California, USA) - Food Is Life Food Is Love
Amanda Preston Araujo (Colorado, USA) - Pool Side Breakfast
Stephanye Schuyler (New Hampshire, USA) - Farm to Table Tomato
Sara Sharp (Texas, USA) - Cape Cod Fruit Bowl
Jan Soules (California, USA) - Finding Neverland  #3: Plums
Jean Sredl (Wisconsin, USA) - Gala!
Maria Stoller (Switzerland) - Rush
Heather Urquhart (California, USA) - My Sad Diet: No Sugar, No Cheddar, No Martinis
Naomi S Velasquez (Idaho, USA) - Gelatin Dessert Delite
K. Velis Turan (New York, USA) - Eat Like You Give A Damn
Susan Vogel (Switzerland) - Spices & Silks
Lisa Walton (Australia) - Blue Pots
Geraldine Warner (Washington, USA) - Kitchen Dream
Laura Wasilowski (Illinois, USA) - Penelope's Art
Artist notifications were sent via email on 01/26/2022
Artwork Available for Purchase
For purchase inquiries, please contact William Reker, Director of Global Exhibitions at exhibitions@saqa.art or 937-912-5009.
All artwork offered for sale is committed to completing the travel listed with its exhibition information. View terms of sale