Scroll down to view image gallery. Click on any square image to launch the slideshow. Be sure to click See Details under each image to find out more about each piece, including additional images, videos, and statements.
Virtual Gallery Theme
What is your legacy? There are many different ways we can leave a legacy for future generations, and each of us will have a different perspective on what our potential legacy might be. We often think of a legacy as something that was left to us or that came to us as a birthright. This exhibit asks you to consider legacy in terms of your personal future. Will you leave a deep connection to family, mentor and improve the lives of others, contribute to a cause you feel passionate about, advance social justice initiatives, or leave tangible evidence of your existence in this world?
Curator Statement (by Barbara Schneider)
In this virtual gallery call we asked artists to consider their personal legacy and how that influences their artwork. We received an astonishing variety of interpretations. Our members have deep feelings for their personal connections to family, to our wider world and to specific and deeply held memories and beliefs that they want future generations to understand and appreciate.
A beautiful example of that immediate connection was From Building Blocks to Marriage Blocks in which the artist honors her father's spirit with a chuppah for her son's marriage ceremony. Other artwork that connects the artist's memories to their future generations in diverse and sometimes humorous ways is Eat Your Veggies, Chicken Who? And Maria's Tree. In each of these the artists calls upon very specific memories and traditions that they want to pass on to their grandchildren.
Another theme about the connection of mothers and daughters developed as well. She's Fading, Finding Our Way, Mystree 4: Finding Our Way, Mothers and Daughters, and My Mother's spirit all honor the memories of mother/ daughter relationships that are slowly changing due to illness and age. Honoring the memory, we have of special people in our lives made for strong and touching work.
Our planet and all its issues were a concern to many artists. Gold Standard, Terra Nova, Indigenous, Edge of Chaos and several other artworks all addressed the legacy we are leaving our future generations and what the artists are creating to raise awareness.
Some artists want to leave a sense of the joy that they feel in in their creative life. Sea of Joy, What Holds Us and Wallflower #3 bring a smile to one's face. Other art was created to inspire hope in the future as demonstrated by Shattered Dreams and A Walk in the Woods.
Addressing historical issues, whether it is a place from the past (Remembrance 2: The Family Farm), the return of relatives at the end of a war, (Rody and Leonard: War is Over), or working with found documents as in A. H. 107 Ranger Grasses reminds us that we have much to be thankful for. Looking back at the damage we did as a nation to indigenous people (Shared Destiny) reminds us that we also have much that still needs our attention.
I thank the SAQA Virtual Exhibits Committee for the opportunity to develop this exhibit and to see it come to fruition. Thanks to all the artists who submitted such personal and impressive work. As a footnote my personal legacy is to continue to plant one thousand trees in my conservation area and record what that will mean to future generations in my artwork.
About the Curator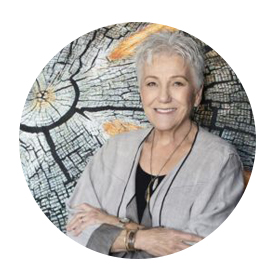 Barbara Schneider began quilting in 1996 and discovered the pleasure of working with cloth, paint, dye, and thread.  Her interest in the Japanese concept of Wabi-Sabi strongly influences all her art.  Much of her current work is strongly linked to conservation and environmental issues.  
 
Barbara has an extensive background in surface design and teaches. Her work has been exhibited nationally and internationally, in venues such as Art Quilt Elements, Art of the Land, Visions 2018 and multiple SAQA Global exhibitions. Her art is held in both private and public collections. Barbara maintains a studio at The Starline Gallery in Harvard, IL.
Accepted Artists
Iina Alho (Norway) - In the midst of darkness, light persists
Linda Anderson (California, USA) - Maria's Tree
Colleen Ansbaugh (Wisconsin, USA) - With Water
Pat Bishop (Wisconsin, USA) - Nest
Donna Blalock (Virginia, USA) - Mothers & Daughters
JoAnn Camp (Georgia, USA) - A Walk in the Woods
Anna Chupa (Pennsylvania, USA) - Rody and Leonard: War is Over
Jette Clover (Belgium) - Words 9
Shannon M Conley (Oklahoma, USA) - A.H. 107 Range Grasses
Joan Mann Diamond (New Jersey, USA) - From Building Blocks to Marriage Blocks
Laura Fogg (California, USA) - Eat Your Veggies
Helen Geglio (Indiana, USA) - Recollected 4
Michele Hardy (Colorado, USA) - Wildflowers #3
Jaynie Himsl (Canada) - Gold Standard
Ann Horton (California, USA) - Honoring Those Who Served
Patty Kennedy-Zafred (Pennsylvania, USA) - Shared Destiny
Deborah Kuster (Arkansas, USA) - Chicken Who?
Betty Lacy (California, USA) - Mystree Four: Finding our way
Mary-Ellen Latino (California, USA) - Sea of Joy!
Eleanor Levie (Pennsylvania, USA) - What's Your Body Type?
Niraja C Lorenz (Oregon, USA) - Edge of Chaos
Sherri Lipman  McCauley (Texas, USA) - She's Fading
Lorna Morck (California, USA) - Shattered Dreams and Open Doors
Linda Mushka (Canada) - What Holds Us
Elisabeth Nacenta de la Croix (Switzerland) - Terra Nova
Tina Sommer Paaske (Denmark) - A girl 3
Wen Redmond (New Hampshire, USA) - Suggestions of Communications
Ann H Ribbens (Massachusetts, USA) - Remembrance 2 - The Family Farm
Valerie D Rodelli (Illinois, USA) - Indigenous
Sara Sharp (Texas, USA) - My Mother's Spirit
Stephanie Shore (Massachusetts, USA) - O Canada!
Ileana  Soto (California, USA) - Marine Alert: Abalone Collapse
Hope  Wilmarth (Texas, USA) - Grandmother's Huguenot Legacy
Vivien  Zepf (New York, USA) - Wonder and Humility