EXHIBITION THEME  
Order. Simplicity. Harmony. Minimalism is line, shape, form, and color combined to simply highlight the very essence of the medium and materials used to create art. Erasing the distinctions between mediums to call attention to the artwork itself, without expectation of emotion or deep meaning. In the words of Frank Stella, "What you see is what you see." A pure form of beauty.
Exhibition Benefactor: Frank Klein
Exhibition Schedule
European Patchwork Meeting, September 14 - 17, 2023
About the Juror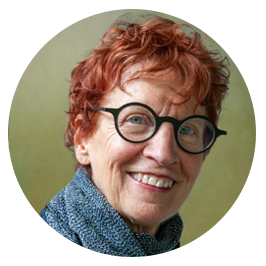 Dorothy Caldwell is a graduate of Tyler School of Art in Philadelphia and presently maintains an active international exhibition and teaching schedule from her studio in Hastings, Ontario.
Her work is included in private and permanent collections including the American Museum of Art and Design, NYC, Museum of Fine Arts, Boston, the International Quilt Museum and Study Center University of Nebraska, The Canadian Department of External Affairs, and Canadian Museum of Civilization, Hull Quebec among others.
Selected Artists
Joanne Alberda (Iowa, USA) - Blue Line
Jeri Auty (Washington, USA) - Total Solar Eclipse
Polly Bech (Pennsylvania, USA) - Convergence
Margaret Black (Pennsylvania, USA) - Solitude
Laurie Bucher (California, USA) - A Gift
Cheryl Costley (Florida, USA) - Simple Retreat
Janet Darcher (Washington, USA) - Shadow Boxing
Brian David Dykhuizen (Montana, USA) - Quercus macrocarpa #1
Petra Fallaux (Pennsylvania, USA) - Polder Horizon 
Katriina Flensburg (Sweden) - On Loose Base
Mita Giacomini (Ontario, Canada) - Immemorial
Sonia Grasvik (Washington, USA) - Loopy
Debbie Grifka (Michigan, USA) - A Bedrock of Calm
Cindy Grisdela (Virginia, USA) - Balancing Act
Louise Hall (California, USA) - Pelican Play 1
Michele Hardy (Colorado, USA) - Circles #34
Jill Kerttula (Virginia, USA) - Spring Emerges in the Midwest Fields
Heidi Koenig (Switzerland) - Can you see me?
Margarita Korioth (Tennessee, USA) - Marching Sticks
Susan J Lapham (Virginia, USA) - Playland #1
Doris Lovadina-Lee (Ontario, Canada) - H&H4 - Sunshine and Skinned Knees
Judith E Martin (Ontario, Canada) - help me to balance
Cathy Miranker (California, USA) - Bravo Bulcão
Beth and Trevor Reid (Australia) - The Voice of Water
Claire Renaut (Washington, USA) - Je me souviens
Karen Rips (California, USA) - Perinatal Depression
Adelheid Risi (Switzerland) - Pulse
Kathleen Robertson (Nevada, USA) - Housetop Variation - Black and White
Susan M Robinson (Florida, USA) - Is Life Really So Black and White?
Connie Rohman (California, USA) - Here And Now
Lynne Seaman (United Kingdom) - Seeking Simplicity: Threads 3
Natalie Skinner (British Columbia, Canada) - Quarter Turn Medallion
Brenda Gael Smith (Australia) - Integrifolia #3: Stops & Starts
Kelly Spell (Tennessee, USA) - Celestial Swirl
Sheryl St.Germain (Georgia, USA) - Recovery
Daphne Taylor (Maine, USA) - Quilt Drawing #25 - String of Breaths
Jan McBrien Tetzlaff (Oregon, USA) - Precipice
Marjolein van der Eijk (Netherlands) - Ode to Jan
Maggie Vanderweit (Ontario, Canada) - Sitting & Waiting
Martha Warshaw (North Carolina, USA) - Fading
Michelle Wilkie (North Carolina, USA) - One of these things
Hope Wilmarth (Texas, USA) - Edge of Space
Margo Yang (California, USA) - Autumn 21
Kathy York (Texas, USA) - Conversations
** Artists were notified via email on December 7