Welcome to the Southern California and Southern Nevada region! Check our Facebook group to find out more about our regional activities, including virtual happy hours on Zoom and two upcoming opportunities to share your artwork. 
Here & Now Regional Exhibition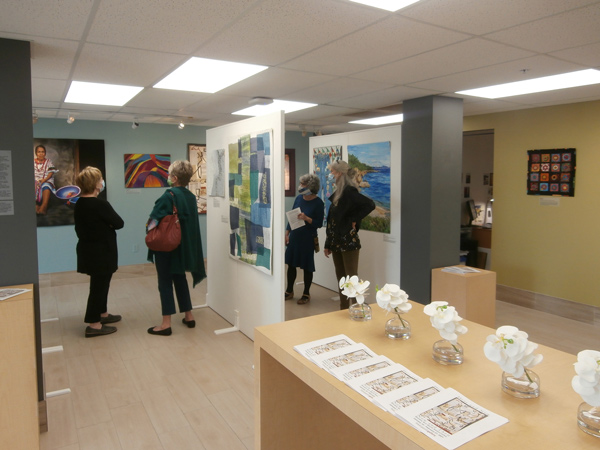 Newsletter Info
Newsletters go out approximately once a month, often with a reminder in between. Send information to kathmccabe@gmail.com
Not all the areas listed below have a contact person. During 2020 none of the local groups met either in person or with an online platform. Electronic meetings have included the entire region.
San Diego: El Cajon, La Mesa, Julian, Crest, Bonita, Tierra Santa, Ramona: Kathy Nida kathynida67@gmail.com
North County up to Oceanside, Vista - Karen Bennick: karenbennick@gmail.com Escondido, Rancho Penasquitos, Rancho Bernardo, Marrietta, Temecula,
Fallbrook: Orange County, Long Beach: Laurie Mutalipassi calquilter@gmail.com
Palos Verdes, San Pedro, and Redondo Beach: Laurie Butcher lauriebucher@gmail.com
Pomona / Claremont area North East LA, East of 5, South and along 210: Sharon Hightower swhightower16@gmail.com
San Fernando Valley, Tarzana, Sherman Oaks, Encino, Woodland Hills and areas surrounding Santa Clarita, south of 126, west of 5: Pam Jenner pam@makingmiracles.net
Bakersfield, Hartford, Visalia: Louise Hall louisehall@aol.com
Palm Springs and surrounding areas, Riverside, Beaumont, Redlands, Banning: Elaine Millar emillar01@gmail.com (in area mid Nov. to mid May)
Big Bear, Victorville, Bishop to Inyokern (north and south of Lone Pine on 395): Roberta Lagomarsini rlagomars@gmail.com
Las Vegas NV to St. George, UT: