Scroll down to view image gallery. Click on any square image to launch the slideshow. Be sure to click See Details under each image to find out more about each piece, including additional images, videos, and statements.
Virtual Gallery Theme
The beauty of a chorus comes from the blending of different voices. Similarly, "Plurality of Voices" will allow viewers to appreciate the diverse range of artistic expression by artists in Europe and the Middle East. The concept of different artistic voices may mean many things to different people, but at its core, it represents diversity in thought, image, or reality. It could be about race, ethnicity, gender, sexual orientation, socio-economic status, age, and physical or mental abilities. Or it could be about religious beliefs, family status, political beliefs, educational opportunity, personal interests, appearance, world view or other ideologies. This exhibition will encourage viewers to think deeply about the diversity of artists who create, and the diversity of voices represented, as they engage with the artwork. 
Curator Statements
Claire Passmore
When planning this first virtual exhibit for a SAQA region, Geneviève and I wanted to find a way to celebrate the complex diversity within the Europe Middle East region. Our members come from 22 countries and speak over 24 different languages, meaning verbal communication can sometimes be challenging. This is when our artistic voices to come to the fore and we let our art do the talking.
As I had hoped there was a phenomenal response from our members and the number, range and quality of the submissions was a joy to see. Features specific to several countries were explored by many, as were common issues brought about by the current global pandemic. Personal emotions, feelings and beliefs were also clearly expressed in many pieces.
Making our selection from such a strong field of submissions took a lot of thought and discussion and it was a privilege and a pleasure to work alongside Geneviève, closely examining and reflecting on such a diverse collection of art quilts. We hope you enjoy looking at this collection of 'voices' from our diverse region.
---
Geneviève Attinger
French :
Composer cette exposition virtuelle a généré en même temps : une grande responsabilité - celle de sélectionner ; un grand plaisir - celui de faire  équipe avec Claire et surtout  beaucoup de frustration : celle de devoir rejeter. Nous voulions construire une exposition qui montre la Pluralité des Voix de notre région, et les artistes de SAQA Europe & ME ont fourni une telle multiplicité de Voix dans l'intention et la forme des œuvres proposées, qu'il serait plus approprié de dire «nous n'avons pas pu retenir »plutôt que « nous avons rejeté».
Parmi les voix artistiques de ce chœur : "Heritage" et "Song of Linen" expriment la Voix de la lignée des artistes. "Children of the Sky" et "For there is always light #2" portent la Voix des poètes. "Lockdown" et "Traces of Memory" parlent de la disparition des échanges avec ceux qui nous entourent. Pour "Percussionist" et "Drums Echo 1", la musique est la Voix des musiciens. "The Advantage of Us" et "Many Voices.One Song" évoquent la force de la Voix du groupe. "Komorebi" et "Colored Stamp" traitent de l'importance de la Voix propre de l'artiste. Et "............. "  les Voix portées par toutes les autres oeuvres ! !!!!
 
Participating in the construction of this virtual exhibition implied many things: a great responsibility - that of selecting; a great pleasure - that of forming a team with Claire and finally, that of frustration: that of rejecting. We wanted to build an exhibition that shows the Plurality of Voices in our region, and the artists of SAQA Europe and ME provided such a multiplicity of Voices in the intention and the form of the works submitted, that it would be more appropriate to say "we not to be able to retain artworks because of quantity" rather than "to reject".
Among the artistic voices of this choir: "Heritage" and "Song of Linen" carry the Voice of the Artists' lineage. "Children of the Sky" and "For there is always light #2" carry the Voice of poets. "Lockdown" and "Traces of Memory" speak of the disappearance of exchanges with those around us. For "Percussionist" and "Drums Echo 1", the music is the Voice of the musicians. "The Advantage of Us" and "Many Voices.One Song" evoke the strength of the group's voice. "Komorebi" and "Colored Stamp" are about the importance of personal Voices. And "............. "all the others !!!!!
About the Curators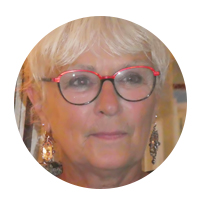 Geneviève Attinger, a former agricultural engineer, is a self-taught French textile artist. She started to create wall-hangings in the late 1980s while working as a part time teacher in biology and bioethics.  Feeling the need for more personal expression, she took evening classes in graphic design and sculpture at the Beaux-Arts School -Lorient . These classes completely changed her work through the use of the sensual, tactile, and malleable nature of fabrics. 
Geneviève's work can be seen in international publications, such as The 30 Distinguished Quilt Artists of the World (Robert Shaw et Kasuo Enomoto, 2003) and is held in public, corporate and private collections worldwide.  She has received numerous awards in the course of her career from prestigious exhibitions such as Quilts=Arts=Quilts and is a SAQA Juried Artist Member.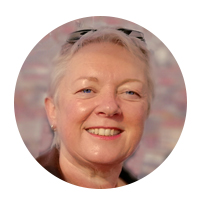 Claire Passmore fills her days exploring new possibilities using cloth, thread, dye, paint and print. Throughout her life she has been a teacher of one sort or another and is a strong believer in sharing knowledge with others. Her art quilts are most often influenced by matters of social conscience, whilst her 3D work focusses on the exploration of geometry and colour, and she delights in discovering the unexpected.
Claire's work has featured in many SAQA Global exhibitions and other international events. It is also included in several private and corporate collections. She teaches widely within the UK and in 2019 was a presenter and tutor at the 5th International Quilt Symposium in Shaoxing, China.
Selected Artists
Iina Alho (Norway) - For there is always light #2
Christine Chester (United Kingdom) - Traces of Memory
Maryte Collard (Lithuania) - Song of Linen
Ramona Conconi (Switzerland) - Sunset in Venise
Fabia Delise (Italy) - Komorebi
Marjolein van der Eijk (Netherlands) - Mijn Stijl  (My Style)
Katriina Flensburg (Sweden) - At Crossroads #3
Bodil Gardner (Denmark) - Together but apart
Caroline Harvey (United Kingdom) - Two Sides
Helene Hein (Germany) - Exchanging opinions
Liz Hewitt (United Kingdom) - Precious
Vera Holmgren (Sweden) - Acorn
Susan Hotchkis (United Kingdom) - Ortigia
Alexandra Kingswell (United Kingdom) - Many voices. One song.
Angela Knapp (United Kingdom) - 'Children of the Sky'
Heidi Koenig (Switzerland) - Colored Stamps
yemima lavan (Israel) - Drums Echo 1
Grace Meijer (United Kingdom) - Percussionist 
Lena Meszaros (France) - Heritage
Elisabeth Nacenta-de la Croix (Switzerland) - Marée Descendante (Tides #2)
Elsbeth Nusser-Lampe (Germany) - Frieze of  Tulips - 3 panels
Bieke Paternoster (Belgium) - Storm
Hanneke Reinalda - Poot (Netherlands) - Around The World
Marjan Ruitenberg (Netherlands) -  1. TThe Wadden Coast  
Christine Seager (United Kingdom) - Fibonacci Circles #2358
Lynne Seaman (United Kingdom) - Lockdown
Maria Stoller (Switzerland) - The Advantage of Us
Marijke van Welzen (Netherlands) - The Butterfly Effect
Sabi Westoby (United Kingdom) - Huge Flocks of Rising Rooks Forsake Their Food
Isabelle Wiessler (Germany) - Flowing Column
Paola Zanda (Switzerland) - Falling Shapes