Scroll down to view the image gallery. Click on any square image to launch the slideshow. Be sure to click See Details under each image to find out more about each piece, including additional images, videos, and statements.
Walk through the gallery or enjoy the guided tour in Historic Detail's Virtual Tour!
Virtual Gallery Theme
Walk down any street and you will see historic details. Architecture, landscape, and the community combine to create obvious and hidden discoveries. Whether the timeline is 20 or 2,000 years, art can open eyes to historic details, sharing clues that bring new awareness to public spaces. Examine any structure relevant to history, whether personal or global. How can the smallest architectural detail spark our imagination? Challenge yourself to consider how a structure interacts with the landscape to evoke a sense of time and place. 
About the Curator
People, places and zeitgeist captivate Alanna Nelson. From Tunisia to Italy to Massachusetts (USA), her fiber art evolves with every location she calls home. Today, she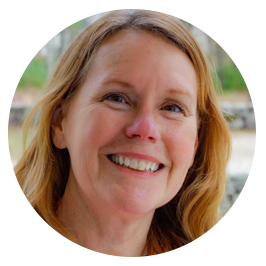 is a community connector inspired by the environment and history, working to create participatory events and public art installations. 
Discover her work at alannanelson.com and connect with TactileTravels on Instagram. 
Curator Statement
The call for entry of "Historic Detail" challenged members to consider how a structure connects with the landscape to evoke a sense of time and place. I rejoiced to discover that the submissions also reflect the breadth of SAQA membership. Alive with artistic voices and fiber art techniques, this gallery celebrates architecture and imagination. 
Inspired by daily walks, travel, events and the passage of time, each work shares a different interpretation of historic detail. Artists created their own fabric by dyeing, screen printing, painting or manipulated photos that were printed on fabric.
"Master Builder" and "Giwa Rooftops" compose their work structurally, while emotions lead in "What remains" and "Marking Time."
Meanwhile, "Peeker of Saint Foy," "View from the Turret" and "The Drake" use color to build their realistic visions.
Many chose raw edge appliqué or thread painting to create the detail they sought ("Balustrade," "Ironworks").
The collection includes piecing and appliqué like "Unhinged" and "Shared Heritage" that embrace the traditional definition of quilt. Beautiful three-dimensional and mixed media work such as "Facade 3" and "Seawall 7" equally represent SAQA's definition.
Enjoy this opportunity to travel via your screen, enjoying historic detail in stitches across four continents.
Selected Artists
Iina Alho (Norway) - Foreign Winds
Deborah Ann (Washington, USA) - View From the Turret
Bobbi Baugh (Florida, USA) - The Lord Giveth and  the Interstate Taketh Away
Anne Bellas (France) - #5, Hommage à ma grand-mère/ Homage to my Grandmother
Peggy Brown (Indiana, USA) - Passageway I
Karen Burns (Iowa, USA) - Unhinged
Ana  Buzzalino (Alberta, Canada) - What Remains ... 
JoAnn Camp (Georgia, USA) - Master Builder
Amy Wilson Cavaness (Texas, USA) - Balustrade 
Sandra Champion (Tasmania, Australia) - Sea Wall #7
Anna Chupa (Pennsylvania, USA) - Haight Ashbury
Maryte Collard (Lithuania) - Hill of Crosses
Maggie Dillon (Florida, USA) - Makin' an Honest Living
Lana Dragon (West Virginia, USA) - Historic Texture
Laura Fogg (California, USA) - The Peeker of Sainte Foy
Ellen Isaacs (Pennsylvania, USA) - Giwa Rooftops
Ann Johnston (Oregon, USA) - The Contact: New Nails
Jean Renli Jurgenson (California, USA) - The Little House
Debra Kay (Arizona, USA) - El Pueblo
Patty Kennedy-Zafred (Pennsylvania, USA) - Steel Town:  Night Shift
Judy Langille (New Jersey, USA) - Facade 3
Regina Marzlin (Nova Scotia, Canada) - Ironworks - Völklinger Hütte
Caitlin Parker (California, USA) - Salton Sea
Denneen Peterson and Bill Meek (Arizona, USA) - Shared Heritage
Shelley Ann Rothgeb (Arizona, USA) - Erosion
Barbara J Schneider (Illinois, USA) - Marking Time
Jean  Sredl (Wisconsin, USA) - Cornerstone
Linda Syverson Guild (Maryland, USA) - Time and Talents
Lilly Thorne (British Columbia, Canada) - Pompeii Remnants
Lisa Walton (New South Wales, Australia) - Faces of Gaudi
Sally Gould Wright (Alabama, USA) - Stairway to Heaven