Scroll down to view the image gallery. Click on any square image to launch the slideshow. Be sure to click See Details under each image to find out more about each piece, including additional images, videos, and statements.
** NEW: Check out the new Virtual Tour of the Bugmania! gallery - it's a whole new way to experience the artwork!
Virtual Gallery Theme
The number of bugs in our world is difficult to imagine. They survive on every continent --yes, even Antarctica!  Worldwide environments rely on the contributions of these diminutive creatures, which range from insects to spiders, butterflies to beetles. They are a primary food source for many species and create the silk thread that humans weave into sumptuous cloth.  They exhibit elaborate patterning and support ecological processes.  They are so ubiquitous that the word "bug" translates globally, evoking both pleasure and pain.  
About the Curators
Dr. Heather A. Hager is an Ontario, Canada-based textile artist and ecology research scientist.  Her artwork explores several themes, presenting viewers with unfamiliar species, aspects of nature, or ecological phenomena, or showing urban scenes from unusual viewpoints.  She uses a minimalist style and limited colour palettes.  Her work has been exhibited regionally, as well as in a SAQA global exhibition.  She can be found on Instagram at drhhager.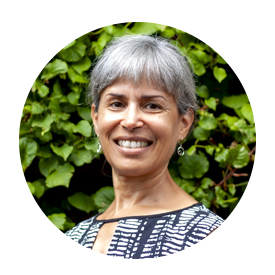 June Horwich has built her practice on refining techniques of dyeing cloth using a variety of resists, and delights in the serendipity of her results. Most of her pieces now include some of her hand-dyed cloth. Active in sewing from childhood, June was drawn into making art quilts, and from there into producing other forms of fibre art, including 3D.  June has exhibited in national and international juried shows.
Curator Statements
Heather Hager
As a young biologist, I was primarily interested in the warm and fuzzy animals.  I didn't really spend much time thinking about bugs beyond watching the bees and butterflies, the dragonflies that would flit around the water's edge, and the ants that got into our kitchen cupboards one summer and wreaked havoc in the cereal boxes.  During my studies, however, I was required to take a course that focused solely on insects.  That course opened my eyes to the vast diversity and amazing lives of insects, and I've been hooked ever since.  
Thus, I was delighted to see the diversity of submissions for BugMania!  Artists depicted many different kinds of bugs, had different interpretations of "bug", and used different forms of expression – two-dimensional, sculptural, and wearable.  I aimed to showcase that diversity as a reflection of the diversity of bug life on Earth when working with June to select the artworks for this virtual exhibition.  Visual impact and design were also factored into the selection.  I was particularly drawn to works that had a narrative element, such as Patricia Knott's "Imagine That" and Ree Nancarrow's "Spruce Bark Beetles", as well as works that provided some insight into the complex lifecycles and interactions of insects with their host plants, such as Margit Kagerer's "Got Milkweed?" and Lorraine Roy's "Spongy Moth".  I was also intrigued by works showing bugs living their everyday lives, such as Kathy A. Menzie's "Praying for Prey" and Anne R. Moats' "Precious Desert Oasis".  I considered it important to include not only the bugs that we find beautiful or helpful, but also those that we may detest, fear, or consider to be pests.  As an example, Dorothy Heidemann-Nelson's gorgeous "Larger than Life Cockroach" shows that each of these bugs can be beautiful in its own right.  
I thank all the artists who submitted the artworks from which to choose, SAQA and the virtual gallery team for providing this opportunity and supporting us, and co-juror June Horwich for contributing her insights throughout the process.
June Horwich
We asked artists to help us to celebrate the world of bugs and all that they mean to us. The breadth of the response was as varied as we could have hoped. It was obvious to us that people are both fascinated and repelled by insects of all types. The exhibition that you see was divided accordingly, into bugs that we see as beneficial, followed by those that are considered pests. 
As a former science teacher, I appreciated the entries involving insects that I had never seen or heard of before. Margit Kagerer's tarantula hawk wasp in "Got Milkweed?", Glenda L. Mah's "Dobsonfly", and Colleen Tavenner's ironclad beetle in "Makech Unleashed" all elicited the urge to find out more. There are pieces included here in which the artists convey such creepiness in the words of their statement, yet represent a despised insect with elegance and beauty, as with "Larger Than Life Cockroach" by Dorothy Heidemann-Nelson, Irene Birute Manion's "Blister Beetle Collection", and Lorraine Roy's "Spongy Moth". Other artworks depart from the obvious interpretations to add humour or poignance to our life with bugs, such as Susan E. Bishop's "Renaissance Fly", "Mothballs" by Anne Peters, Linda Colsh's "Berlin Cobweb", and Sharon M. Peoples' "Sowing the Garden". 
Thank you to all of the artists who sent in the entries from which we made our choices. I am grateful to the SAQA Virtual Exhibition Committee for the opportunity to choose this collection, and for their guidance with the entire process. It was a pleasure to work with Heather to create BugMania!. 
Selected Artists
Selected Artists:
Deanna Apfel (California, USA) - Bombyx Mori
Susan E Bishop (New York, USA) - The Renaissance Fly
Stephania L Bommarito (California, USA) - Aussie Leaf Traveling Sisters
Kathie  Briggs (North Carolina, USA) - Hummingbird Moth and Bee Balm
Susan  Brubaker Knapp (North Carolina, USA) - Orange Milkweed with Swamp Milkweed Leaf Beetle
Linda  Colsh (Maryland, USA) - Berlin Cobweb
Sherri R Culver (Oregon, USA) - Convocation of Pests
Joanna  Ellis (Ohio, USA) - Pretty Pollenator
Gina M Gahagan (Montana, USA) - Midstream
Jayne Bentley Gaskins (Virginia, USA) - Wrath of the Computer Bug
Dorothy  Heidemann-Nelson (Nebraska, USA) - Larger than Life Cockroach
Margit  Kagerer (Arizona, USA) - Got Milkweed?
Patricia  Knott (Utah, USA) - Imagine That
Kimberly  Lacy (Colorado, USA) - Swarm
Lucy  Landry (Louisiana, USA) - Beetle Jewel
Tracey  Lawko (Ontario, Canada) - Bumblebee in Roses
Glenda L Mah (Oregon, USA) - Dobsonfly
Irene Birute Manion (NSW, Australia) - Blister Beetle Collection
Kathy A. Menzie (Kansas, USA) - Praying for Prey
Karen I. Miller (Oregon, USA) - Free At Last
Anne R Moats (Arizona, USA) - Precious Desert Oasis
Carol  Monti (Virginia, USA) - Bug Dance
Ree  Nancarrow (Alaska, USA) - Spruce Bark Beetles
Sharon M Peoples (ACT, Australia) - Sowing the Garden
Anne  Peters (Ontario, Canada) - Mothballs
Phyllis (Perlie) Petrillo (Florida, USA) - ROSIE
Karen  Ponischil (North Carolina, USA) - The Lady's Favorite
SueEllen  Romanowski (New York, USA) - Zuccoli
Judy Ross (Connecticut, USA) - Caterpillar's Dream
Lorraine Roy (Ontario, Canada) - Spongy Moth
Jennifer Solon (Ohio, USA) - Clutter
Karen Stockwell (North Carolina, USA) - The History of the Universe, part 1
Colleen Tavenner (West Virginia, USA) - Makech Unleashed
Dianne Duncan Thomas (Nebraska, USA) - Royal Scarab
Anne Walker (Maine, USA) - Shoo Fly
Carla A White (Vermont, USA) - The Impatient Buzzing Bee