SAQA has been invited to again participate in SOFA Chicago. Taking place annually at Chicago's Navy Pier, SOFA Chicago explores materiality and meaning in sculpture, objects, functional art and wearable design, along with a curated selection of self-taught and contemporary art. SOFA is a confluence of perspectives where art, design, and people intersect. 
EXHIBITION DATES:
November 3-6, 2022
This is a single venue exhibition
About the Juror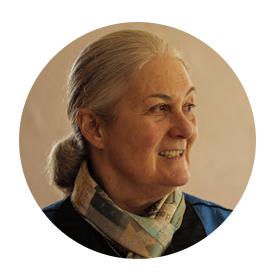 Carol Sauvion is the Creator of Craft in America, the documentary series celebrating American craft and the artists who bring it to life. The Craft in America series airs nationwide on PBS.
Sauvion is the Executive Director of the non-profit organization Craft in America, which has a mission is to promote and advance original handcrafted work through educational programs in all media. Projects include the PBS documentary series; the book, Craft in America: Celebrating Two Centuries of Artists and Objects; two inclusive websites: www.pbs.org/craftinamerica, www.craftinamerica.org and the Craft in America Center, located in Los Angeles and open free to the public. The Center originates exhibitions with catalogs, hosts artists' talks and workshops and provides access to a large craft library.  
Craft is Sauvion's lifelong passion. For the past 41 years, she has been the director of Freehand, her Los Angeles gallery specializing in functional craft. Prior to her involvement in the gallery, she was a potter for ten years. She continues to make pots as an avocation. She is currently on the board of the American Craft Council.
Selected Artists
Susan Avishai (Ontario, Canada) - Day
Beth Blankenship (Alaska, USA) - Tide Pool:  Urchins
Jayni Bloch (Ontario, Canada) - Earth Cycles
Helen Blumen (Maryland, USA) - Fanfare
Pat Budge (Idaho, USA) - Pendleton
Lisa Charles (Wyoming, USA) - When Planes meet Trains
Sue Colozzi (Massachusetts, USA) - Salt Marsh Egret
Linda Colsh (Maryland, USA) - Body of Work
Donna Deaver (Idaho, USA) - View From the Water - Amsterdam
Petra Fallaux (Pennsylvania, USA) - Polder Horizon #1
Alisa Golden (California, USA) - Conversation
Laurel Izard (Indiana, USA) - Clowns and Soldiers
Annette Kennedy (Texas, USA) - Winter Song
Patty Kennedy-Zafred (Pennsylvania, USA) - Dustbowl Diary
Ingrid Lincoln (Manitoba, Canada) - Things Fall Apart
Zwia Lipkin (California, USA) - Blue Planet Blues
Viviana  Lombrozo (California, USA) - Vessels to Hold Fleeting Moments (Consists of 3 pieces)
Niraja C Lorenz (Oregon, USA) - Cosmos 4-Spiral Galaxay
Denise Oyama Miller (California, USA) - Ahwahnee
Jo-Ann Morgan (South Carolina, USA) - Elegy for Elijah
Clara Nartey (Connecticut, USA) - Rhoda aka Rhodolite
Tasha Owen (Washington, USA) - Five Wishes
Sharon M Peoples (ACT, Australia) - Sowing the Garden
Wen Redmond (New Hampshire, USA) - Cormorant's Perch
Alison Schwabe (Uruguay) - Slideshow
Sally Sellers (Washington, USA) - Don't
Maria Shell (Alaska, USA) - TWIST
Terri Shinn (Washington, USA) - Dragon Tree
Jim S Smoote (Illinois, USA) - Nas and Neil
Jan Soules (California, USA) - Quiet Places
Laura Wasilowski (Illinois, USA) - Natural Gardening #5
Rosanna Lynne Welter (Utah, USA) - Sow the Wind, Reap the Whirlwind