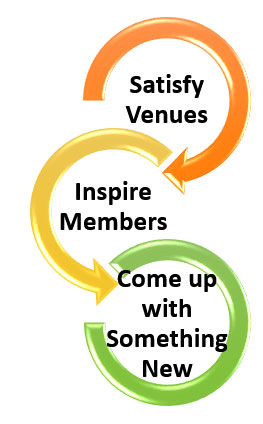 The SAQA Exhibition Committee is a dedicated group of volunteers whose mission is to find and develop opportunities for our members to show their work.  Those opportunities may include museums, international expositions, quilt show venues, regional exhibits, galleries, or trunk show presentations.
Developing a Theme
Almost all exhibitions are developed with an opening venue in mind which can sometimes set the direction of a show. The Development Subcommittee discusses potential show themes and titles to present to the rest of the committee during monthly conference calls.
Once an exhibition theme is determined, the decision is made whether to make the show a call for entry or a call for consideration. Then, the juror coordinator finds an appropriate and qualified juror (or jurors) who will select the pieces and an Exhibition Coordinator is assigned. The prospectus is written, a timeline developed, and the call posted to the SAQA website. This process usually begins several years before a show opening.
The Exhibition Process
When members answer a SAQA Call for Entry, a multi-faceted exhibition process starts. First, submissions go through a jurying and notification process. Once works are selected, the exhibition catalog and promotional materials are designed. Additional venues for the exhibition are sought.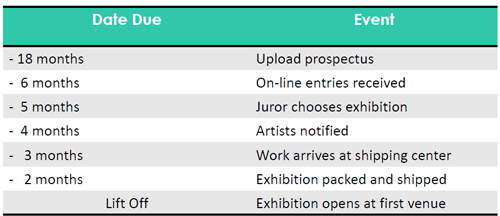 Artwork is sent to our shipping facility to prepare it for arrival at the exhibition's premiere. Each exhibition is attentively followed to be sure it arrives at its destination, is set up according to SAQA's requirements and moves on to each succeeding destination. At the conclusion of the exhibition schedule, artwork is returned to the SAQA shipping facility. Work that has been sold is shipped to its new owner. Unsold work is returned to the artist.
Most shows travel to other venues in order to be seen by more people in more places. These venues include quilt exhibitions both in the US and abroad, as well as regional museums and galleries.
In addition, we are partnering with museums and galleries to produce joint exhibitions, allowing us to learn what they look for, and to ensure we can meet the demands of such venues going forward.
The Exhibition Committee's goal is to place SAQA members' work in more high profile art venues, while still retaining a presence in well known quilt venues in the US and abroad. With increased exposure, we hope to offer our members ever expanding opportunities to show their work and build exhibition resumes.