They call us the Middle-Atlantic region because we're at the center of the East Coast.  Our membership reflects our region: from bustling Northern Virginia to the beautiful beaches of North Carolina, our artists capture the expansive horizon of the Atlantic and the forested Appalachian Mountains, as well as being on the forefront of the Modern movement.  Representational, Abstract, 2D and 3D, you'll find someone who shares your passions in our region.  We welcome you to join the multi-talented region of Virginia-North Carolina.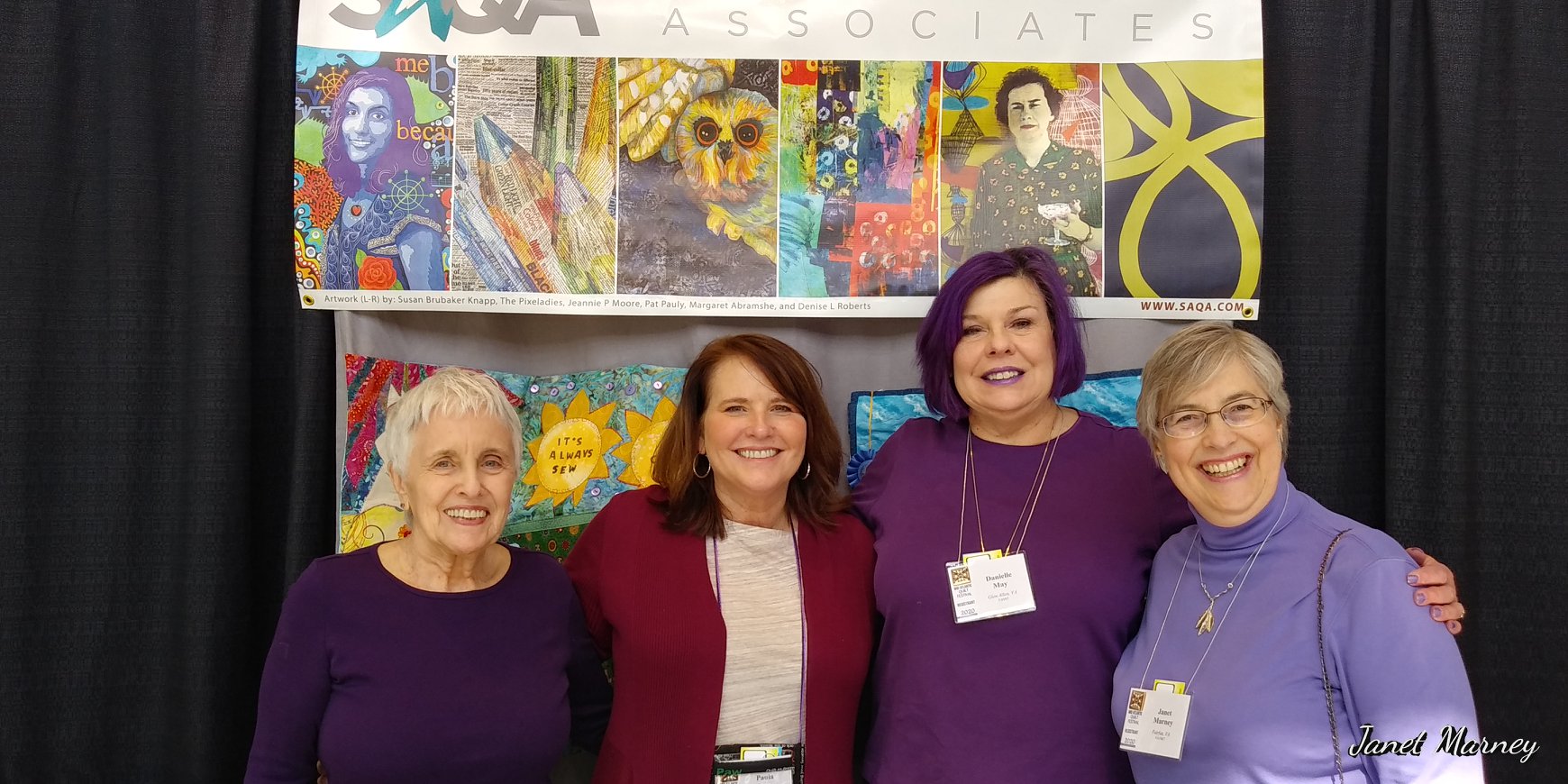 Local members provide information about SAQA to attendees
at the Mid-Atlantic Quilt Festival in Hampton VA.
Monthly Newsletter
The news for our region is published monthly and distributed by email. The deadline for submissions is the 27th of the month. Please submit news about your POD or local exhibit to our VA/NC Regional Newsletter Coordinator (Deborah Elouahabi artquilt.deborah@gmail.com).
Local Connections / Pods
The map shows the location of our Pods - contact POD Leaders for more details about meeting times and events.
Asheville, North Carolina, "Mountain Art Quilters"
POD Leaders: Paula Entin (pbentin@fibersong.com) and Jenny Perry (Jjennyperry1@gmail.com)

Charlottesville/Central Virginia, "Fiber and Stitch Art Collective"
POD Leader: Jane Fellows (dancingdeer.fellows@gmail.com)

Northern Virginia, "SNAP (SAQA Northern Virginia Pod)"
POD Leader: Janet Marney (janet@quiltedheart.net)

Piedmont Region Virginia, "AWEsome Explorations"
POD Leader: Margaret Storti (margaret@stortis.net

Williamsburg Virginia, "Peninsula/Southeast VA (SEVA)"
POD Leader: Annabel Ebersole (aquilt@gmail.com)

Southwestern Virginia, "Fabric and Fiber Artists (FIFAA)"
POD Leader: Paula Golden (paulacgolden@comcast.net)