Planting and Harvesting Successful Pods
Article by Linda Strowbridge, MD/DC/WV Co-Rep
Note: Pod is a popular term for Local Connections, which are groups of SAQA members who meet locally to pursue their love of art quilting.
Virginia/North Carolina Co-reps, Susanne Jones and Kathie Briggs, sent out a request for volunteers to host only one trial meeting in their local areas to find out if SAQA members were interested in forming Local Connections (aka pods). No other commitment was expected. When the volunteers stepped forward, the events were announced to the entire region, but primarily intended for art quilters within driving distance of each other.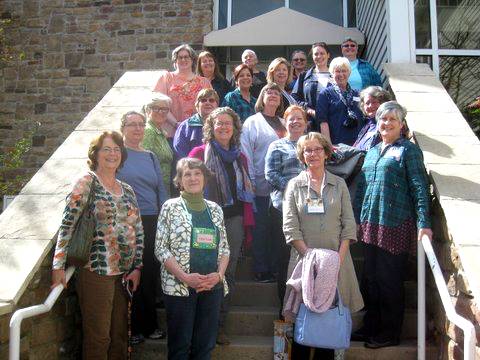 Janet Marney in Northern Virginia responded, and turnout at the inaugural meeting of SNaP (short for SAQA Northern Virginia Art Pod) was ample evidence that the organizers had hit on a good idea. A SAQA member for just 18 months, Marney had previously wondered why there wasn't a local group and assumed it was the role of a regional rep to organize one.
"I didn't realize she needed people or I would have volunteered earlier," Marney said. "I have lead many groups, so this was easy."
That initial meeting in April attracted 31 people. Since then, SNaP has grown to more than 50 members, gathered for monthly meetings, and organized outings to an art quilt show and art museum. It is also poised to start organizing workshops and spinning off smaller special interest groups, such as a critique group. And it is encouraging people to become SAQA members. For example, an outing to the Smithsonian American Art Museum for a tour lead by docent and fiber artist, Eileen Doughty, prompted several people to join SAQA.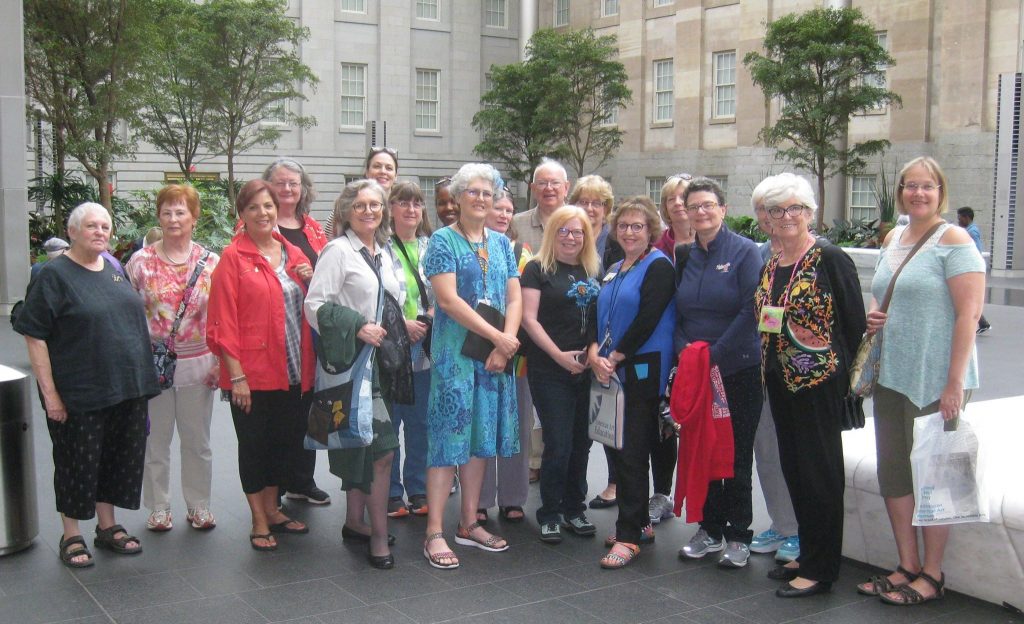 "One person told me she was going to remain a SAQA member because of this group," Marney said. "SAQA needs to appeal to people who can't go to the annual conferences and local groups are an excellent way to do that."
When asked about the broader initiative, Jones said, "We decided we needed to re-energize the region, but our region is so spread out. From the top of Northern Virginia to the bottom of North Carolina, it's 400-500 miles. We knew that Florida had been very successful with its pods so we thought that might work for us."
Jones and Briggs created a map pinpointing where all their members lived, identified logical places to start pods, and then started searching for volunteers to launch them. The region, which already had one pod, quickly gained two others and secured volunteers to establish 4-5 additional pods this autumn.
"The pods meet art quilters' fundamental need to meet other art quilters and advance their artistic pursuits together", Jones said. "And the beauty of a pod is that it can be any size. If you only have two people in your area, you can still be a pod – a wonderful, little pod."
That need to connect prompted Linda Sexton-Patrick to establish Mountain Quilters – a hybrid group of SAQA and non-SAQA members – four years ago. Sexton-Patrick had moved to Ashville, NC from Connecticut where she had been an active member of SAQA and another fiber art group. Despite Ashville's vibrant arts community, Sexton-Patrick couldn't find other art quilters, so she put a notice in her traditional quilt guild's newsletter that she was starting an art quilt group.
"In those first meetings, I only got four people. But by the end of the year, we grew to five!" Sexton-Patrick said with a chuckle.
It has taken perseverance and creativity to establish an art quilt group in an area where "people are scattered all over creation" and still greatly favor traditional quilting. But Mountain Quilters has grown to 16 members, significantly increased the percentage who are SAQA members, and held their first group show.
"People are starting to feed off each other," Sexton-Patrick said, noting that members have gained insights from each other about design, techniques, photography, marketing, and other professional development topics.
---
Keys to Success
Interested in setting up a Local Connection in your region?
There isn't a right or wrong way to establish and grow a SAQA Local Connection or even a consistent name for the gatherings, but organizers of the groups Virginia/North Carolina call pods say several practices greatly helped them.
Publicity
The Information Age provides us with many tools to publicize activities. You can send out meeting notices, group updates, and photos through Facebook groups and other social media platforms in addition to regional emailed newsletters. Many quilt guilds are happy to convey announcements about the launch of SAQA pods in their guild newsletters or on their Facebook pages, and some traditional media (or their digital offspring) still provide opportunities for publicity. Sexton-Patrick periodically submits articles about Mountain Quilters to community newspapers to both educate the public about art quilting and possibly attract new members to the pod.
Programs with Appeal
Pods will typically attract artists with different interests and different experience levels, so it's important to include activities that appeal to all skill levels, such as sharing work, visiting art or quilt shows, or discussions of art topics. A diversity of interests also creates opportunities to expose pod attendees to new art topics and techniques. A short talk and demonstration of leaf-pounding by a SNaP member so surprised and interested other members that they asked the pod to host a leaf-pounding workshop.
Personal Touch
"Providing a warm, welcoming environment at meetings and giving attendees time to socialize and make friends is essential," Marney said. "Personal outreach to quilters who might enjoy joining SAQA, is also a good practice."
"There are people who are doing art quilts, but don't necessarily see themselves as art quilters," Sexton-Patrick said. "They're the people at guild meetings who have moved past making blocks. They might be interested in what SAQA offers."