Virtual Gallery of selected pieces will be available for viewing on July 1!
This exhibition is an invitation to artists to freely express their feelings, both positive and negative, through textiles.  Artists are encouraged to push boundaries to fully express themselves and engage with expressive techniques which might include (but which are not required) mark-making, collage, surface design, unique materials and/or experimental and improvisational media.   
The exhibition will serve as a cathartic experience for the artists and create an emotive experience for the viewers.
THIS CALL IS FOR AN ONLINE GALLERY
Open to all SAQA members
No entry fee (up to 3 entries)
No size restrictions
Because this is a virtual exhibition, it is critical that submitted images be of the best possible quality: in focus, with clear details, and following SAQA's digital image requirements. Please read Virtual Gallery Submission Guidelines for more details.
Don't miss this! We have prepared a handy resource of  Tips for Successful Art Quilt Photography.
About the Curator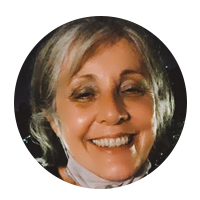 Teresita Leal was born in Buenos Aires, Argentina, where she currently lives and works. Leal graduated as a biochemist and as a Doctor in Physiology; she became an art quilter 20 years ago. Throughout her art career, she has studied art movements and quilting; she most recently added curatorial studies to her educational pursuits.  Leal is also a teacher, offering classes and workshops across Latin America.   Her art pieces have been displayed in quilt festivals, art salons and museums in America and throughout Europe.