A beautiful showcase of art quilt history!
Layered & Stitched: 50 Years of Innovative Art is a gorgeous showcase of 50 art quilts by renowned master artists. Seminal works show the evolution of the art quilt from the earliest pioneers creating during the 1960s through to today's artists experimenting with new forms, new materials, and new digital technologies.
Trace the development of this exciting art form as it developed from isolated makers, primarily in Ohio and California, into an international movement involving thousands of artists spanning the globe.
Exhibition Schedule
Quilt Festival Houston: October 31, 2019 - November 3, 2019
Texas Quilt Museum: January 9, 2020 - March 15, 2020
Ross Art Museum, Delaware, Ohio: May 14, 2021 - July 2, 2021 * canceled
San Jose Museum of Quilts & Textiles: October 10, 2021 - January 9, 2022  
The Dairy Barn Arts Center, Athens, Ohio: May 2022 - July 2022
Selected Artists
BJ Adams (Washington, DC, USA) - Traveling From Dawn to Dusk
Deidre Adams (Littleton, Colorado, USA) - Returning to the Source
Elizabeth Barton (Athens, Georgia, USA) - Warm Light
Alice Beasley (Oakland, California, USA) - No Vote, No Voice
Betty Busby (Albuquerque, New Mexico, USA) - Regeneration
Elizabeth Busch (Glenburn, Maine, USA) - Winter
Dorothy Caldwell (Hastings, Ontario, Canada) - Fjord
Jane Burch Cochran (Rabbit Hash, Kentucky, USA) - Moonlight
Linda Colsh (Middletown, Maryland, USA) - Journey
Judith Content (Palo Alto, California, USA) - La Briere
Nancy Crow (Baltimore, Ohio, USA) - Study #11
Jennifer Day (Santa Fe, New Mexico, USA) - Tibetan Treasure
Ruth De Vos (Perth, Western Australia, Australia) - Not Even Solomon
Chris Wolf Edmonds (Berryton, Kansas, USA) - Cherokee Trail of Tears
Sylvia H. Einstein (Belmont, Massachusetts, USA) - Pattern of Least Regret
Susan Else (Santa Cruz, California, USA) - Family Life
Noriko Endo (Tokyo, Japan) - Radiant Reflections
Nancy Erickson (Missoula, Montana, USA) - The Purple Lynx
Caryl Bryer Fallert-Gentry (Port Townsend, Washington, USA) - New Dawn
Dianne Firth (Canberra, Australian Capital Territory, Australia) - Flora
Leslie Gabrielse (Rotterdam, Netherlands) - Star
Valerie Goodwin (Tallahassee, Florida, USA) - African Burial Ground II
Tim Harding (Stillwater, Minnesota, USA) - Artifact #22
Jenny Hearn (Johannesburg, Gauteng, South Africa) - Pele IV
Michael James (Lincoln, Nebraska, USA) - Bouree
Ann Johnston (Lake Oswego, Oregon, USA) - North Is Up
Holley Junker (d.) (USA) - Flowerseed Farm
Lisa Kijak (Laguna Hills, California, USA) - Bridge Motel
Misik Kim (Seoul, Korea) - The Story of My Life
Kristin La Flamme (Portland, Oregon, USA) - Home Is Where The Army Sends Us
Jean Ray Laury (d.) (USA) - Listen to Your Mother
John Lefelhocz (Athens, Ohio, USA) - Light Waves
Olga Prins Lukowski (Molenschot, Netherlands) - The Holy Grail
Linda MacDonald (Willits, California, USA) - Clear Palisades
Patricia Malarcher (Englewood, New Jersey, USA) - Iconostasis
Katie Pasquini Masopust (Fortuna, California, USA) - Spring Equinox
Therese May (San Jose, California, USA) - Bridget Quilt
Carolyn Mazloomi (West Chester, Ohio, USA) - Certain Restrictions Do Apply
Fumiko Nakayama (Kyoto, Japan) - Geometric
Mary Pal (Almonte, Ontario, Canada) - The Drifter
The Pixeladies  (Cameron Park, California, USA) - American Still Life: The Weight of the Nation
Yvonne Porcella (d.) (USA) - Come Again Kabuki
Arturo Alonzo Sandoval (Lexington, Kentucky, USA) - Pattern Fusion No. 14-Motherboard No. 5
Jane Sassaman (Harvard, Illinois, USA) - Divine Radiation
Joan Schulze (Sunnyvale, California, USA) - Where Dreams are Born
Maria Shell (Anchorage, Alaska, USA) - Wall of Sound
Susan Shie (Wooster, Ohio, USA) - Tropical New York
Ulva Ugerup (Malmö, Sweden) - Angels of Wrath
Laura Wasilowski (Elgin, Illinois, USA) - Blue Book on Blue Chairs
Charlotte Yde (Frederiksberg, Denmark) - Steen's Quilt
Art Quilts Unfolding - companion book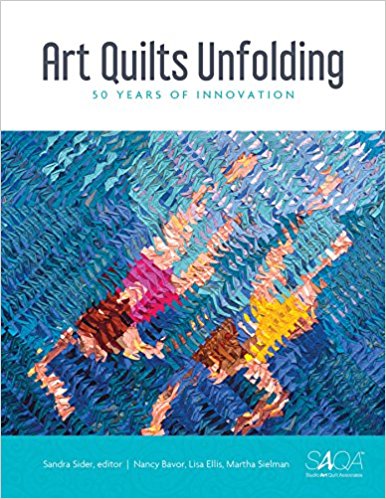 Published by Schiffer Books, Art Quilts Unfolding offers full-color images of 400 masterpieces along with engaging interviews and profiles of 58 influential artists, key leaders, important events, and significant collections. Organized by decade, an additional 182 international artists' works are featured.
An introduction by Janet Koplos, former senior editor of Art in America, and a conclusion by Ulysses Grant Dietz, emeritus chief curator of the Newark Museum, help us to understand the impact and the future of the art.