Judith Content's current work explores a contemporary interpretation of the traditional Japanese dye technique called arashi-shibori, also known as "pole-wrapping shibori." In Japanese, the word arashi means storm. The term was applied to this type of resist-dying because the end result suggests the patterns of a driving rain.
In keeping with this evocation of a force of nature, Judith's hand-dyed, pieced and quilted silk wall pieces are inspired by the interplay of light and shadow on waterfalls, cliffs, canyon walls, coastal wetlands, and the desert. The theme of nature's power and beauty is particularly evident in her works Squall Line and Passage and imbue other pieces as well, such as Meltwater and Aftermath, all on display in two of our galleries.
In addition to working with 2-dimensional quilts, Judith enthusiastically explores other creative tributaries including jewelry design, painting buttons, and crocheting nests such as Dragonfly. Other sculptural fabric confections, such as El Dulce, are also on display in this exhibition.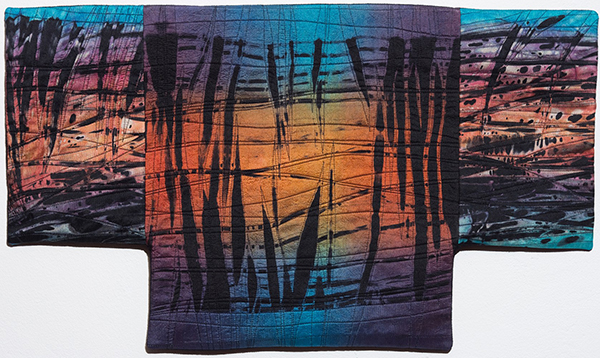 Judith Content - Echo Canyon
The museum is has reopened with limited capacity and limited hours but you can also view this exhibit online
Location
San Diego, California
Venue Info
Visions Art Museum
2825 Dewey Rd. Suite 100
San Diego, CA 92106
United States
619-546-4872