Outdoor artwork installations provide temporal beauty within the community. Ingenuity, art supplies, and imagination, are all that one needs to create an outdoor installation that invites exploration or participation. In the freedom of an outdoor context, even traditional art has the power to interact with the landscape in a new and meaningful way.
The installation, or components within the installation, need to meet SAQA's definition of an art quilt, although location and subject matter are completely up to your imagination. Whether small enough to be displayed on a balcony or large enough to fill a pasture, every size is eligible.
There is no time limit by which the artwork must have been installed, so it can be a new installation or one no longer in the public eye. In order to participate in this Virtual Gallery exhibit, you will need to submit two professional quality photographs or an optional short video. If you choose to submit a video, you will also need two static images of your installation.
If you have any additional questions, please contact Susan Else or Sarah Entsminger, at virtualgallery@saqa.com.
Requirements:
Artwork, or components within, must meet SAQA's definition of an art quilt.
Artists may enter up to three artworks.
Only current SAQA members may enter.
If the artwork is a collaboration, all collaborating artists must be SAQA members.
Work must be original and of the artist's own design.
Artwork will not be shipped; only images will be used.
For additional information on the terms used in these guidelines as well as digital image submission requirements, please refer to Exhibition Guidelines
Additional Guidelines:
There is no entry fee for this call.
No artist statement is required, but one may be submitted.
There is no date by which the artwork must have been made.
Artwork may have been published previously.
No more than one entry may be selected from a member for the exhibit.
Artwork may not have a watermark, signature or other proprietary mark showing.
There is no requirement that the work be offered for sale.
SAQA will not sell the exhibited work on behalf of the artist; however, an individual artist may sell his or her own artwork.
Selection Process:
The Curators will jury the submissions based on quality of submitted image and illustration of the exhibition theme. Approximately 26 pieces of artwork will be selected. Because of tight deadlines, it is critical that submitted images are of professional quality; artists will not be contacted for revised images.
THIS CALL IS FOR AN ONLINE GALLERY
About the Curators
Daren Pitts Redman, Contemporary Textile Artist
What began as a desire to share warmth with family through creating quilts, reflective of the individual, has evolved into an experiential contemporary textile art form for Daren.
Daren's 2D and 3D textile art is about sharing life's journey. It's a story about discoveries, community, and travel. The motifs and contemporary abstract compositions she creates are inspired by what she sees in photographs, or the world around her.
A storyteller at heart, Daren discovered that her love of travel, and the desire to share these experiences with those around her and back home, became the seeds for her textile expressions. After all, fabric has a history of embodying stories, so what better way to share these mindful moments?
Susan Lenz, Installation and Contemporary Embroidery Artist
Generally using needle and thread for self-expression, Susan works to articulate the accumulated memory inherent in discarded things. She seeks a partnership with her materials, their purposes, values, and familiar associations. Memory, universal mortality, and personal legacy are central themes.
Vintage and recycled materials are combined with meticulous handwork and self-guided, free-motion machine embroidery. Susan is drawn to textiles for their tactile qualities and often makes work that is meant to touch and be touched. 
Judith Martin, Textile Artist
The fabric constructions Judith makes combine fine art's conceptualism with traditional woman's craft. Photographs, drawings, paintings, and objects are mixed with fabrics, threads, and text in order to communicate poetically. Meditative handwork fills most of the pieces.
Traditional quilt patterns and multi-cultural symbols concerning birth, death, and sexuality are the foundation for her artwork. When one considers the connection that these rites of passage have to the bed, then the quilt is an obvious and powerful medium.
Terms and Conditions
You will be asked to agree with these terms and conditions. "I agree to loan images of my artwork to Studio Art Quilt Associates, Inc. I further agree to permit images of my artwork to be used in articles, ads, promotions, blogs, websites, and/or social media for and about the virtual gallery and/or promotion of SAQA, Inc." "I confirm, to the best of my knowledge, the artwork entered is original and does not violate any copyright or trademark laws."
Important Dates
September 1, 2020  - Online Entry Opens
September 30, 2020 - Online Entry Deadline at 11:59 EDT
October 20, 2020 - Notification of Acceptance sent via email
November 1, 2020 - Opening of Online Exhibition
December 31, 2020 - End of Exhibition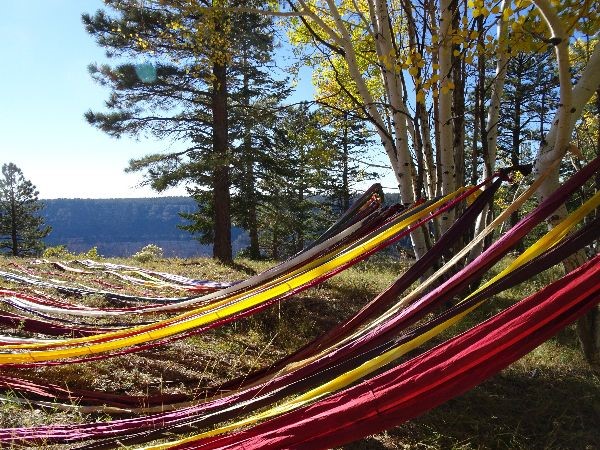 Daren Pitts Redman - Colors of the Grand Canyon
Want to learn more about Daren's outdoor installations? Watch this inspirational video.