Virtual Gallery of selected pieces will be available for viewing on April 1!
The number of bugs in our world is difficult to imagine. They survive on every continent --yes, even Antarctica!  Worldwide environments rely on the contributions of these diminutive creatures, which range from insects to spiders, butterflies to beetles. They are a primary food source for many species and create the silk thread that humans weave into sumptuous cloth.  They exhibit elaborate patterning and support ecological processes.  They are so ubiquitous that the word "bug" translates globally, evoking both pleasure and pain.  
This exhibition celebrates all manner of bugs and what they do, whether they creep, fly or invade computers; maybe there's even room for a Love Bug or two.
THIS CALL IS FOR AN ONLINE GALLERY
Because this is a virtual exhibition, it is critical that submitted images be of the best possible quality: in focus, with clear details, and following SAQA's digital image requirements. Do review this primer for tips on successful art quilt photography.
Please read Virtual Gallery Submission Guidelines for more details. 
About the Curators
Dr. Heather A. Hager is an Ontario, Canada-based textile artist and ecology research scientist.  Her artwork explores several themes, presenting viewers with unfamiliar species, aspects of nature, or ecological phenomena, or showing urban scenes from unusual viewpoints.  She uses a minimalist style and limited colour palettes.  Her work has been exhibited regionally, as well as in a SAQA global exhibition.  She can be found on Instagram at drhhager.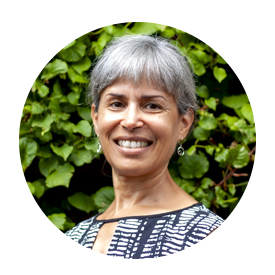 June Horwich has built her practice on refining techniques of dyeing cloth using a variety of resists, and delights in the serendipity of her results. Most of her pieces now include some of her hand-dyed cloth. Active in sewing from childhood, June was drawn into making art quilts, and from there into producing other forms of fibre art, including 3D.  June has exhibited in national and international juried shows.