by Allison Reker (SAQA Journal)
Imagine a viewer standing in front of your impressive art quilt. The piece overwhelms with mysterious lines and gleeful colors. The viewer draws closer to learn the essence of your piece by reading your artist statement. To continue the dialogue already in play, your artist statement should leave room for the viewer to connect thoughts, emotions, and experiences to you. A strong statement will make your piece memorable long after the viewer has walked away from your artwork or turned the page in the exhibition catalog.

Focus on brevity
The importance of an artist statement can make it intimidating to write. Often the temptation is to make it long and complicated. You might feel you have a lot to say, and that you are going to cram everything into this communication. Big words and lengthy sentences sound smart and professional, right? The last thing you want to do is come across like a droning art history professor. That will just put distance between you and the viewer. What you are really trying to do is create a sense of intimacy to draw viewers into your world. If viewers don't immediately know what your statement is trying to say, they will move on.
Complexity is a distraction.
There is an added temptation to fill your statement with the nitty-gritty details about how your piece was made, the materials used, and how it was assembled. When you have a limited amount of space — a curb that exhibition organizers frequently set — this type of information is unwanted clutter. To dissect the artwork in your statement is like revealing how a magic trick is done while it is being performed. You want to keep the sense of wonder alive.
For SAQA exhibitions and catalogs, there is a separate materials and techniques section set aside specifically for this purpose. Those viewers who want to know more can read this section, while those who prefer to preserve the mystery can enjoy your piece without interruption.

Reality check
There is another reality to consider when writing artist statements for SAQA-specific publications and display labels. All long statements are edited to a specific size requirement, usually to a maximum of 50-80 words. This is due to space constraints. Like any other piece of writing, crafting an artist statement is a process. Don't expect to get it perfect on the first draft. Write that wordy statement to get all your ideas out on paper, but don't stop there. Revise it, revise it again, and then again. Hone it until all the extraneous information is cut away, and you are left with the
points you really want to say.
Emotional response
Remember, your artist statement is an opportunity to make a deeper connection with a viewer, and to extend the dialogue your piece visually started. Remember that you are trying to evoke an emotional response. There are three questions your artist statement should answer to ensure that outcome:
What was the inspiration for your piece?
What does it mean to you personally?
What do you hope the viewer will take away from it?
Most likely you won't be present when viewers linger at your artwork to take in its nuances and ponder its meaning. Your statement may have less than a minute to answer their questions, so every word must count! I cannot emphasize that enough, so I'll say it again: Every word must count. That is why this isn't the place to detail the kinds of thread you used or to tell your life story. Reflect on the three questions to help get to the core of what you want to express.
To illustrate good artist statements, I reviewed a variety of SAQA catalogs to find those that grabbed my attention. There were many great examples, but I narrowed my choices down to just a few that range in length from a mere 25-55 words. All of them paint a vivid picture in and of themselves, or inspire further reflection in dialogue with the image.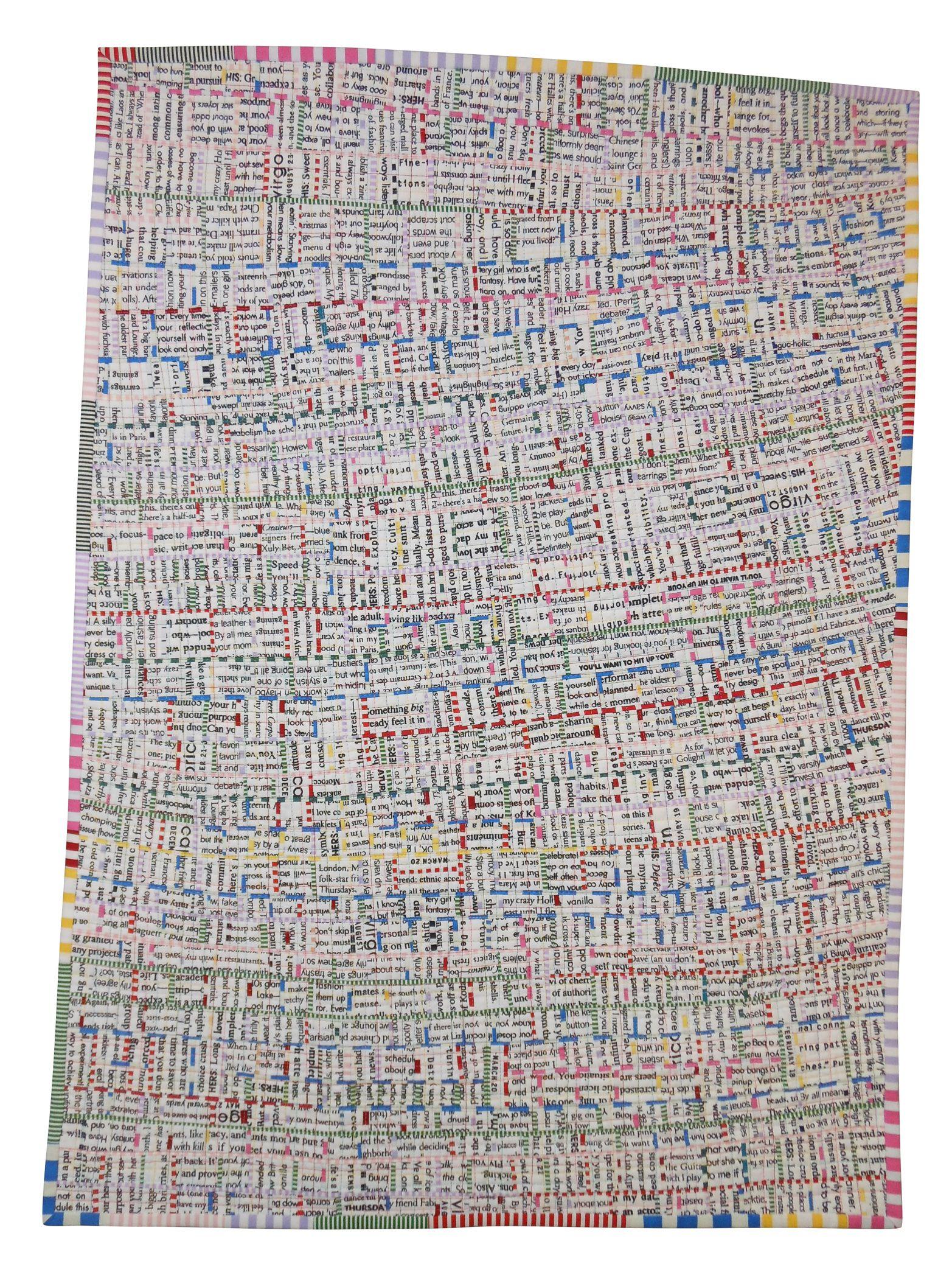 Kathleen Loomis (Crazed 20: Print on the Dotted Line from Text Messages)
"In an age of ubiquitous communication, are we really getting through to one another? The tiny fragments of words in my quilts hint at stories and substance, but whatever they are about remains a mystery. What did we lose when we traded instantaneous connection for the more leisurely, more thoughtful letters and books of the past?"
This statement literally converses with the viewer. It asks direct questions that both reveal the artist's point of view and offer a space for a viewer to consider her or his own. The artist refers to a visual element in her work (tiny fragments of words) without getting into detail about the materials and techniques. Her inspiration is clear, as is the personal meaning behind it.
Laura Wasilowski (Young Forest #5 from Seasonal Palette)
"There is nothing like a warm spring day. It glows with fresh colors and all they promise: new beginnings, sweet potential, hope for the future."
This statement is short and sweet, but leaves no question as to what the artist hopes the viewer will take away from her piece. The writing evokes emotions that complement the work itself, drawing on a viewer's experiences: the sense of renewal inherent to spring, and the warmth and color that contrasts winter's cold, drab grays.

Christine Holden (What Happens in the Swamp? from Wild Fabrications)
"What 'wild' things happen in the swamp when no one is watching? I imagined an alligator and an egret surreptitiously hanging out among the lily pads while a passing turtle gets quite a surprise."
Not all statements need to be serious. This statement's playful whimsy engages the viewer's imagination and invites that person to come up with their own answer to the artist's question. What does happen in the swamp when no one is watching? When you're creating a piece of artwork, anything is possible! What sort of surprise does the passing turtle get, anyway? You'll have to experience the artwork itself to find out.
Heart of the matter
Artwork is personal. When writing your statement, take some time to really think about the significance of your piece. What emotional spark  inspired its conception? What deeper meaning did you find as you engaged in the creative process? How can you strip away all of the unnecessary words until only the heartbeat of your message remains? Vulnerability has its risks, but it is also a point of connection between artists and viewers. You have something to say, and they are eagerly listening.
Take some time to step out of your shoes and slip on those of the viewer. What does your brief statement reveal about you and your art? What do you want it to reveal?
Let the conversation begin.
Allison Reker is the SAQA membership coordinator. She also is the author of three fictional books and a freelance editor for various publications. She resides in Beavercreek, Ohio.