EXHIBITION THEME   
Reimagine a world through an alternate, extraordinary timeline. Imagine our bodies merged with our devices or a world shared with sentient robots or other life forms.
What would a refrigerator, a clock, or even a lawn mower look like if it ran on steam power?
What sort of people would live on the streets of a decaying metropolis, starkly divided between haves and have-nots, with police drones patrolling above and neon lights cutting through the thick, dirty air?
Will science and technology free us from mundane daily chores, or enslave us to a global corporate master?
The opportunities are endless.  Artists are invited to explore the science fiction worlds of cyberpunk, steampunk, dieselpunk, biopunk, atompunk, clockpunk, nanopunk, and more!
EXHIBITION SCHEDULE
New England Quilt Museum, Lowell, Massachusetts: April 30 - July 13, 2024
Festival of Quilts, Birmingham, United Kingdom: August 1 - December 31, 2024
About the Juror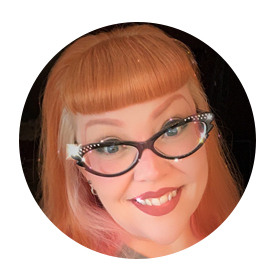 Cheryl "Muppin" Sleboda is a national and award-winning fiber artist and quilter.  Cheryl is a recognized expert in fabric manipulation, and is the author of "Smock It To Me: The History and Technique of Canadian Smocking."  She has appeared over 25 times each on It's Sew Easy TV and Quilting Arts TV, and speaks and teaches surface design and art quilting techniques.
Cheryl is also the owner of Sew Much Cosplay(R), a costume and cosplay company dedicated to bringing costumers into the larger sewing industry.  Prior to going full time with her company, Muppin Inc., Cheryl was an executive at the world's largest comic book and pop culture distributor, with a career that spanned over 20 years.  She has a deep love for anything pop culture, and draws inspiration from her love of comics and movies for her artwork, quilts, and costumes.