Donna Deaver is one of our participating artists in the SAQA Global Exhibition Ebb & Flow. Scroll down to find out more about how she was inspired to create her piece "Stranded".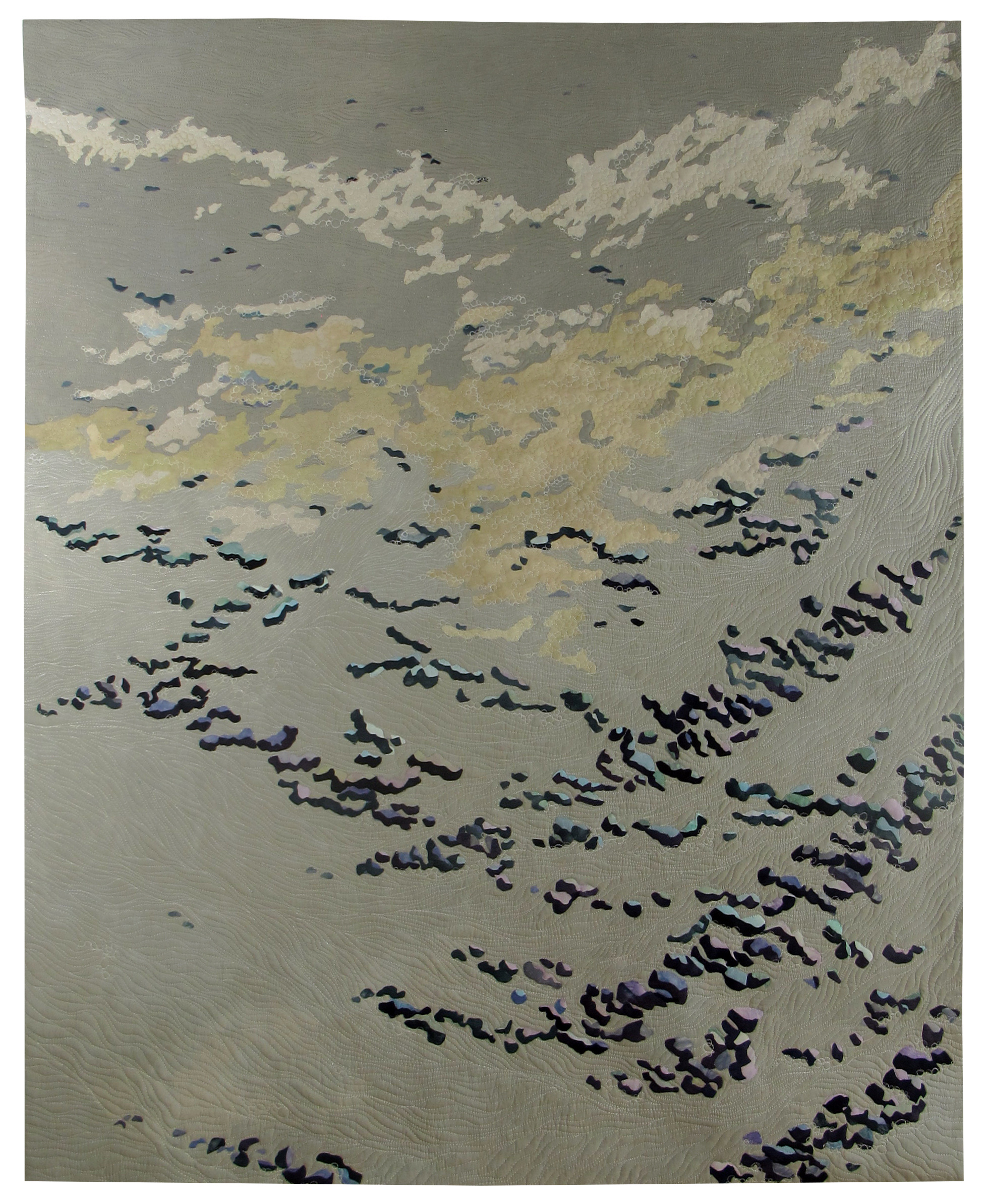 Tell us about the piece you entered in Ebb & Flow.
This artwork tells the story of Velella or "by-the-wind-sailors", jellyfish-like creatures that sail along, upside down, on the top of the ocean's surface.  Due to a sail that rises above the water and is angled, they generally tack to the right of northwesterly prevailing winds and stay offshore.  Periodically, winds shift and blow from the southwest, which sends them sailing towards the shore.
Out for an early morning walk on the Oregon coast a few years ago, I came across thousands of them that had just washed ashore.  The beach appeared to be strewn with precious electric blue-colored gems, clumping in patterns that mimicked the arcs of the waves.  Awed by their beauty, their story also intrigued and saddened me.  As with all living organisms, water is essential for Velella to survive. As soon as the water beneath them disappears, they perish.
Once I returned home, I continued to ponder this and did further research, then got to work choosing a palette and dyeing fabric.  Using many photographs that I took that morning, the design then came together, complete with sand patterns, foam, and bubbles.
Why did this theme (Ebb & Flow) appeal to you?
Ebb & Flow immediately reminded me of the moon and the ocean tides.  I spent several years creating work for a series called 'Ocean's Edge', because of my deep love of the sea.  'Stranded', which I had made as part of this series, came to mind because the ebb and flow of the tides and the wind, as well as life and death, are all part of its story.
I also knew that SAQA's artists would explore Ebb & Flow in many different ways and that it had the potential to be a powerful exhibition, especially with Linda Colsh as the juror. I was not wrong!
Do you start with a plan, or does your work evolve more organically?
For me, it is a combination of both.  I allow myself the freedom of sketching and photographing out in the world, capturing anything that catches my eye, without a plan in mind. I try to capture the essence of a place or scene unfolding before me, just for the pure joy of doing so.  I revisit my growing collection of sketchbooks and my photographs regularly over time for inspiration for my textile work.
Once I have decided to take one of my sketches or photos further, I begin to develop a general plan of how to execute the idea.  I use different methods and media, so I spend a little time thinking about which method suits my subject matter and how best to express it, with a general outcome in mind.  At some point, I return to working more intuitively, and I am often surprised at the direction it takes. I have learned to trust my instincts, as that often gives me the best outcome.  Understanding and mediating the battles between my right brain and left brain is crucial!
What does exhibiting your art mean to you?
I ask myself this question a lot!  When I first began entering juried exhibitions, it was because there were so many people who had never seen this media.  It was a way to educate people about what can be done using fabric and stitch.  Thanks to SAQA, its Global Exhibition programs, and its artists, quilts as art is not such an unheard-of concept anymore.
Now, I consider and choose exhibitions very carefully and for different reasons. All-media exhibitions are a way of showing that fiber art belongs with paintings, sculpture, and other media.  SAQA's exhibitions are of an exceptional quality, are highly regarded and travel globally. Lastly, I sometimes choose exhibitions in specific venues or with specific themes that appear to be a good fit for my work and be an opportunity to reach a unique audience.
I make my artwork for me, first and foremost.  Sending it out into the world is a way to have dialogue and make connections with others.
Describe your studio/the place that you create.
I have an open 14'X18' space on the second story of my home, dedicated to making my art.  It is filled with natural light coming from windows on three sides, with a view of sky and trees.  It is glorious in all seasons!
My space has continued to evolve over the past 10-12 years. It now has pale gray walls, hardwood floors, wonderful lighting, and a large design wall, covered in batting.  My husband and I are both rather analytical, so we engineered the space very well for efficiency to include a lot of storage, long tables for design, and to hold my Bernina sewing machine and Handiquilter sit-down quilting machine.  My most used possession is an inexpensive folding, rolling table that can be used for cutting and sorting fabric, drawing, painting, and splattering.  It has been known to hold knitted garments for blocking, shaving cream and ink experiments, and even beverages and food to serve various visitors!
I use my computer for many hours at a time, so I have a corner with a desk that can be raised up to standing height, with a bookshelf above it and my ever-running essential oil diffuser.
This place is a sanctuary for me.  I can lose myself for hours in it with creative exploration.  Best said with the words -- coined by Ellen Dissanayake, author, and scholar -- that are written prominently on one of the studio walls, 'joie de faire', translated loosely as "joy in making".