Through remarkable art quilts and sculptural textile artworks, 40+ artists from the Northern California SAQA region interpret the diversity, illusions, and realities of California.
California is a land of contradictions and dreams. It's the home of Hollywood where the film industry was born and a place where technical innovation spawned the Silicon Valley. It's where the Summer of Love took place and where a romanticized Spanish past helped launch a leisure and travel empire. California has been a social and political leader in many an arena, from mitigating climate change to advocating for the rights of the LGBTQ community. It lies at the heart of the Pacific Rim, creating a cultural tapestry that interweaves Latino, Anglo, Asian, Pacific Island, and African-American traditions. And yet, its history includes the lawful and systematic decimation of the State's indigenous peoples; the exclusion of Chinese emigrants; the internment of American citizens of Japanese descent; and both the welcome and abuse of migrants from the Dust Bowl, the sharecropping South, and from across its southern borders.
California is a large and complicated creature, where dreams are formed and sometimes realized, and where homelessness, want, and xenophobia are all too prevalent. Stitching California: Fiber Artists Interpret the State's People, Life, and Land asks textile artists to explore and reflect on the diversity, illusions, realities, and hopes that define — or at least help us better understand — the richness and contradictions of the Golden State.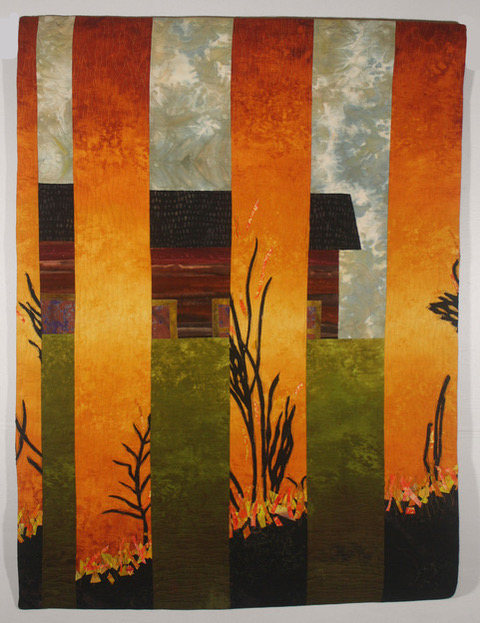 Carol Larson - Fire and Flood
Location
Turlock, California