When entering a SAQA Global Exhibition or Virtual Gallery (or some regional calls), you will need to complete an online submission form that is similar to the samples below. Note that forms are customized for each call to match the prospectus. Use this information as a guide only.
The online submission form will need to be completed for EACH artwork that you submit for a call (usually up to 3 submissions per artist). You will be prompted to return to the submission form during the process. If you are done, you can proceed to pay your fee in the SAQA Store. Note that there is no fee for Virtual Gallery submissions.
 
If you have any questions, please contact calls@saqa.art.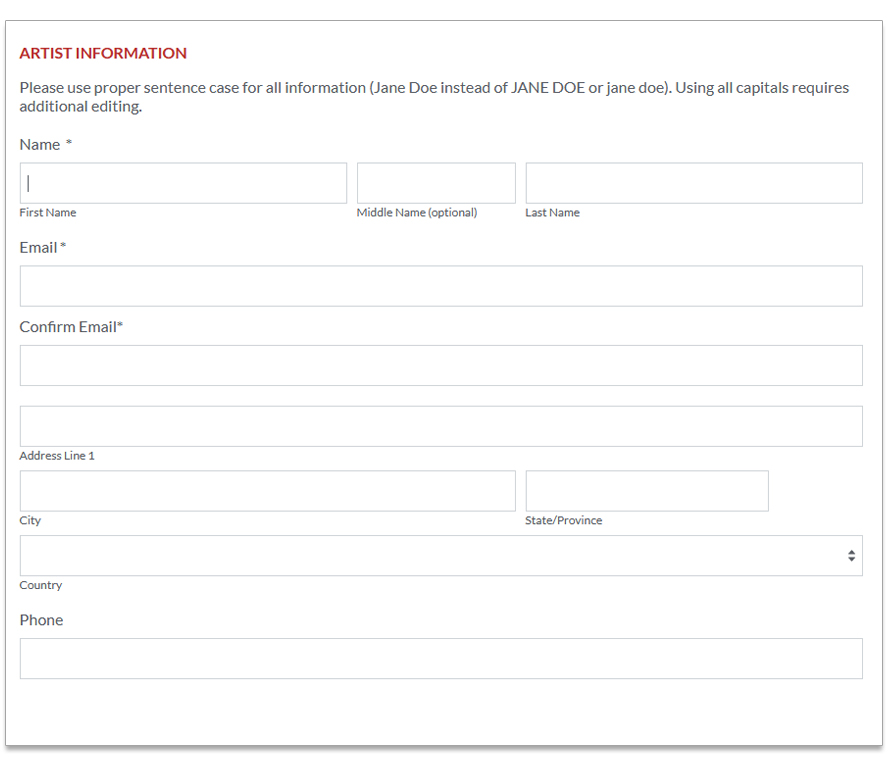 Be sure to use the same email address for each submission
Don't use ALL CAPITALS when completing fields
If your address does not include a province or state, just enter N/A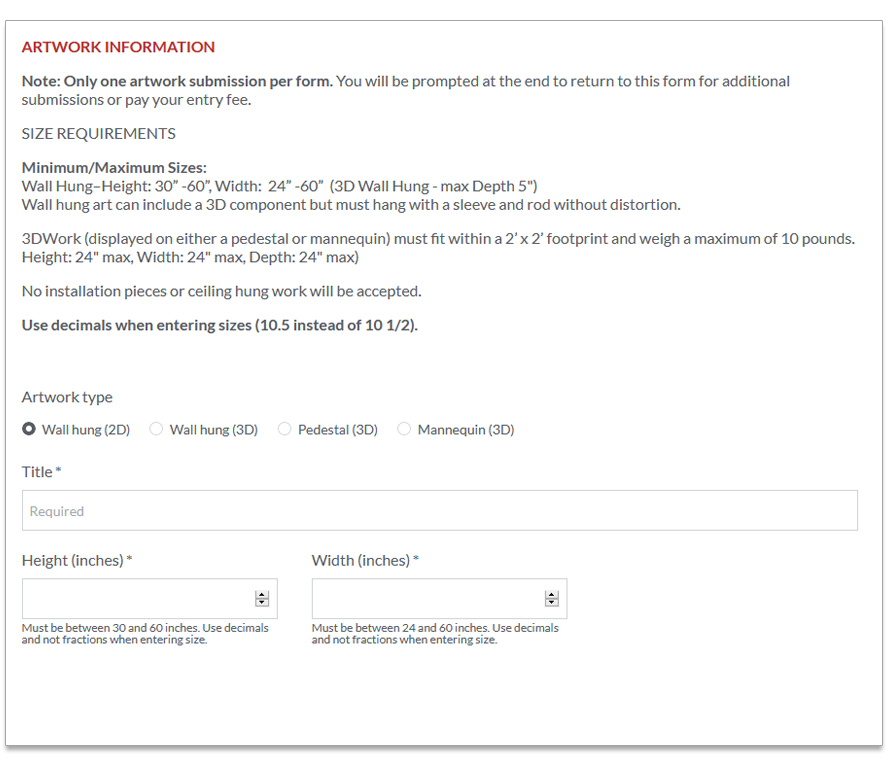 Artwork information will vary according to the prospectus requirements for each call. You may be asked additional questions about depth or hanging/installation requirements - it just depends on the call.
Do not use fractions when entering sizes - use decimals points. Since it is a numeric field, don't enter any text characters.
The form will check to see if the entered size is within the size requirements listed. A red box will appear if the size isn't within the specified range.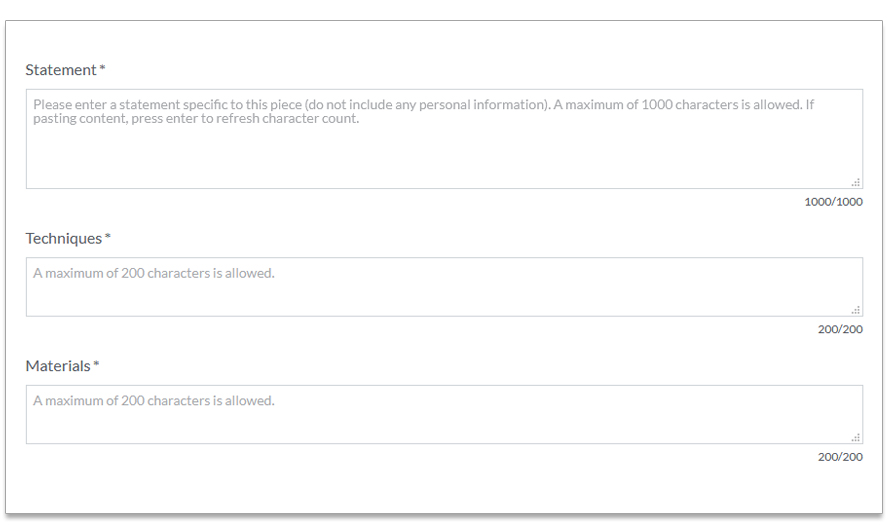 The prospectus will include the maximum number of characters accepted for the call. This information is used for jurying, labels, and catalogs. You can use a word processing program and paste the information into the fields - most programs have a way to count the characters (including spaces). 
To preserve the blind-jurying process, do not include any personal information (your name or other identifying details) in these fields.
Once you start typing in the field you will see the numbers in the bottom right change to show the number of characters left.
Any characters more than the maximum will be discarded when the form is saved.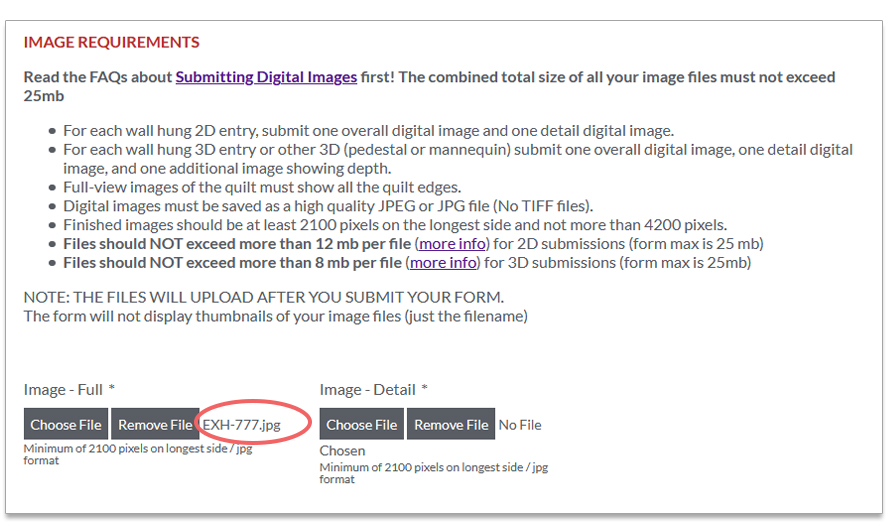 The submission form will include the specific file requirements for the particular call (these may vary). While the form does NOT check the pixel size or file size on uploaded files, you will want to ensure that your images meet the specifications. 
When saving your images, be sure to select JPG or JPEG files. The form will NOT accept any other file formats.
Do not include your name or initials in your filenames (title is fine). 
Remember that all edges of your piece must be viewable in the full image. If your image is cropped, you will be required to submit another image.
A submission form cannot exceed 25 MB in uploaded image files (usually there are a maximum of 3 per artwork). You will receive an error if this limit is exceeded.
Since there are slight variations in how file sizes are calculated, we recommend a 24 MB target size for ALL your uploaded images (12 MB each if submitting 2 images or 8 MB each for 3 images). 
The files do not upload until the form is submitted. When a file is selected, you will not see a thumbnail but the filename will be displayed (see red circle above).
If you are accepted into a SAQA Global exhibition, you WILL be contacted if your image isn't suitable for print purposes.
Only include a photo credit if you did NOT take the photo submitted on this form. This is not for any photo/digital images used in the creation of the artwork - just who took the photo so it can be credited in the catalog, on website, etc.
Collaboration on an artwork means one or more persons worked as a team to jointly create the artwork and each person contributed in some significant way to the artwork, sharing credit for its creation. This does not include the production of material used, paid labor, or contract quilting.
If your piece is for sale, do include the commission amount in the final price. If your piece is not for sale, enter the insurance value. This is required for insurance purposes. 
How do I know if my form was submitted correctly?
Once you complete all the required fields, click the Submit Form button. Depending on the size of your image files, there may be a brief delay before the confirmation page displays. This should NOT take more than a few minutes.
If you are still on the submission page, make sure that ALL the required fields have been completed. You will see a red box around fields that either don't have a response or the response doesn't meet the set parameters. For instance, some height and width fields do have minimum and maximum values. Check to make sure you are within the specified range. Also make sure that you have read and checked the last question.
Once your submission has been completed, you will also receive an automatic email confirmation - check your spam folder if you don't find it in your regular inbox. This email will include a PDF attachment with all the artwork information.
How do I enter multiple pieces of artwork for a call?
Most calls for entry allow you to submit multiple pieces (usually up to 3) - do check the prospectus for detail as this can vary. 
You will have to complete the submission form for EACH PIECE. This will require entering your name and contact information each time. Please DO use the same email address for each submission as this assists with managing the call data.
Once the form is submitted, you will be prompted to return to the submission page to submit another piece. If you are done with all of your submissions, you can make your payment at www.saqa.com/fees. Note that there is no fee for Virtual Gallery submissions.
If you have any questions, please contact the exhibition coordinator noted in the prospectus.