Light is our primary tool for perceiving and understanding the world around us. Without light there is no vision. Light allows us to appreciate the world through shape and form and evokes emotions. Common qualities of light are intensity, quality, color, direction, distribution, texture and movement. Artists are encouraged to explore how light creates and transforms your art.  

PREMIERE EXHIBITION LOCATION

European Patchwork Meeting, Sainte-Marie-Aux-Mines, France 2021 - exact dates TBD
REQUIREMENTS
Minimum/Maximum Sizes:  Wall Hung – Height:  36" to 60", Width:  36" to 60"  
** note: these sizes differ from the original prospectus as follows: the maximum height has changed from 46" to 60".
This size increase allows for greater flexibility in work that may be submitted. Any artwork that meets the original or the expanded size is eligible.
No 3D art will be considered
All quilts must have hanging sleeve
All quilts must be able to be rolled from top to bottom
Any embellishments must be able to be rolled from top to bottom
No batteries or electrical components
All quilts must be shipped to the US prior to debuting at the EPM, there will be no exceptions allowed
Questions?
Before you contact the Exhibition Coordinator, please refer to Exhibition Policies and FAQs. Should you need further policy clarification, contact Donna Deaver at lighttheworld@saqa.com.
About the Juror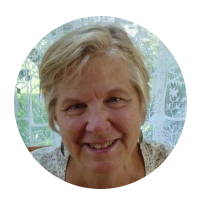 Jan Myers-Newbury is internationally recognized for her pieced quilts constructed from hand-dyed fabric and based on techniques, particularly shibori and the layering of color using dyes and discharge, she has developed over forty years. The result is lyrical, often nature referenced work, which is singularly unique.
She has exhibited both nationally and internationally, and been included in a record fourteen Quilt National exhibitions, winning Best of Show in 1993. Widely respected for sharing her personal dye techniques and enthusiasm for art quilts, she has taught workshops around the world. 
Myers-Newbury's work can be found in the permanent collections of the National Quilt Museum, Museum of American Design, Minneapolis Institute of the Arts, and Minnesota Historical Society, as well as five quilts in the collection of the International Quilt Museum. Additionally, Myers-Newbury's quilts are also included in over 250 corporate and private collections throughout the United States. In 1999, she was a presenter at the Third International Shibori Symposium in Santiago, Chile. Her quilt, "Depth of Field:  A Plane View," was selected as one of the 20th Century's 100 Best Quilts, and her work is widely published, including most recently, Art Quilts Unfoldingand Masters: Art Quilts.