SAQA has been invited to again participate in Intersect Chicago (formerly SOFA).
EXHIBITION DATES: November 4 - 7, 2021 for Chicago venue. Other dates TBD but all works will be returned by December 31, 2021 
From their website, "Running since 1993, Intersect Chicago takes place annually at Chicago's Navy Pier, and focuses on three-dimensional artworks that cross the boundaries of fine art, decorative art, fiber arts, and design. Through art, and the diverse voices of their exhibitors and artists, they encourage discussions which promote social awareness and foster positive change."
Not only is Intersect Chicago an exciting chance to have your work displayed at this prestigious venue, it is also an unparalleled opportunity to present to the art world elite the contemporary viability of fiber as a fine art medium.
Due to booth size, only a limited number of works will be selected. Sales will be allowed at the venue. Accepted artists will be contacted for sales prices.
SIZE REQUIREMENTS 
Maximum Sizes, (there are no minimum sizes):
2D Wall Mounted Works – Height: 72"  Width: 48" 
3D Wall Mounted Works – Height: 72"  Width: 48" Depth: 12" 
NOTE: All wall hung art must hang without distortion either with stretcher bars, stitched on sleeve, or other integrated hanging system. Accepted artists must provide all hanging apparatus and hardware necessary to display their art.
Freestanding Sculptural Works – Height: 72" Width: 24" Depth: 24" with a 20 pound maximum. No ceiling hung work will be considered.
EXHIBITION COORDINATOR:  Donna Deaver
If you have questions about this exhibit, please refer to SAQA's Exhibition Policies and FAQs where many exhibition related questions are answered. If you have any further questions regarding this exhibition, please contact Donna at Intersect@saqa.com. 
ADDITIONAL ELIGIBILITY AND GUIDELINES
For information on eligibility to enter a SAQA Exhibition and SAQA's Policies governing all exhibitions, please refer to SAQA's Exhibition Policies and FAQs.
Jurying of the exhibition is by digital image. Information and resources for submitting digital images can be found on SAQA's website, Submitting Photos to SAQA Publications, and How to Submit Images for SAQA's Blind Jurying Process.
For specific information on shipping for exhibitions, please refer to SAQA's Shipping Policy. For non-U.S. members, please refer to Shipping Reimbursement (non-US members).
Venue Info
Festival Hall, Navy Pier
600 East Grand Avenue
Chicago, IL 60611
About the Juror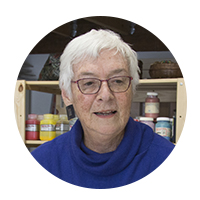 Barbara Lee Smith is an artist (MFA Mixed Media), writer, educator, lecturer and curator. During her long career, Smith has exhibited her work and taught in the United States and Canada, Europe, Mexico, Asia, Australia, and New Zealand. She is the author of Celebrating the Stitch, which helped put contemporary embroidery on the art world map.
Smith's work is in the collections of the Renwick Gallery, Smithsonian Institution, Indianapolis Museum of Art, Racine Art Museum, Tacoma Art Museum, as well as university, corporate, and private collections around the world. A lengthy interview is part of the Archives of American Artists. Smith lives and works in the oldest commercial building in downtown Durham, NC.
Important Dates
June 1, 2021: Online Entry Opens
June 30, 2021: Online Entry Deadline at 11:59 pm Eastern Time
August 13, 2021: Notification of Acceptance - All notifications will be sent via email
September 1, 2021: Artwork to be RECEIVED by SAQA - details provided upon acceptance
Exact dates TBD Opening - Intersect Chicago, for this venue only
TBD End of Exhibition - work will be returned December 31, 2021