Hooked by Design brings together contemporary fiber artists whose work speaks to the expansive landscape of today's rug hooking community. Thirteen artists, hailing from as close as Milwaukee to as distant as Toronto, Canada, have contributed a stunning array of over forty hooked rugs to this exhibition, the first exhibition in the museum's history to focus solely on rugs.
Rug hooking is considered a time-honored tradition, one that became popular in North America in the mid-nineteenth century as a way to provide warmth and comfort in the home. An early form of recycling, rugs were often made of re-used scraps of clothing and other remnant fibers, most notably wool. Recycling wool and dyeing it to achieve a desired palette is still practiced by rug hookers today. As the works in Hooked by Design demonstrate, however, current artists are pushing the boundaries of the medium by incorporating a multitude of materials, from lace and silk to metallic thread and plastic.
Not solely for use underfoot anymore, contemporary hooked rugs are often called "paintings in wool." Artists are deeply enmeshed in new approaches to rug hooking, resulting in a range of styles, from abstraction to portraits and landscapes. This creative variety is on view in the exhibit.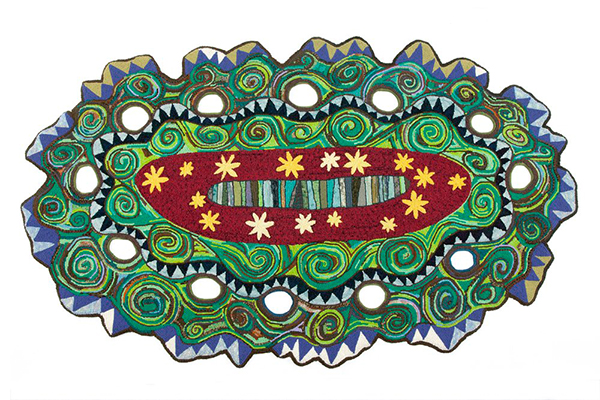 Liz Alpert Fay - Early Spring - Fiddleheads and Flowers
Location
Cedarburg, Wisconsin