Premiere Exhibition Location
International Quilt Festival, Houston, Texas, October 2022
Gastronomy is the study of the relationship between food and culture, featuring not only the bountiful gifts from nature, but a gift from the human hand. The art of preparing unique, delicate food is a tradition passed from generation to generation, around the world. Combining innovative ingredients, colors, textures, and flavors creates dishes pleasing to both the palate and the eye.
Artists are encouraged to reflect on their personal relationship with food - the enjoyment, comfort, and celebration inherent in the presentation of a special meal.
SIZE REQUIREMENTS
Minimum/Maximum Sizes:  2D Wall Hung - Height:  12" - 72"  Width:  12" - 72"  Depth:  Max projection up to 3". 
Wall hung art with a 3D component must hang without distortion and may be on stretcher bars, framed, or mounted.
3D work must fall within:  Height:  72"  x Width:  24" x Depth:  24" 
No ceiling hung or installation work will be considered.
Questions?
Before you contact the Exhibition Coordinator, please refer to Exhibition Policies and FAQs. Should you need further policy clarification, contact Donna Deaver at Gastronomy@saqa.com.
About the Jurors (Desedamas - Cecíla and Mercè)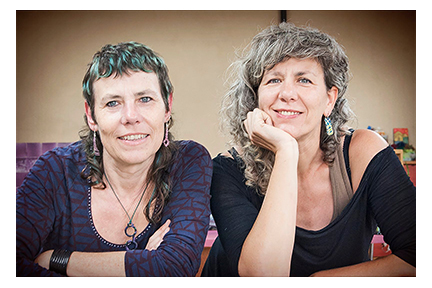 We are two sisters, Cecília and Mercè, who started silk painting 23 years ago as a hobby. We discovered something so exciting that we decided to have it become our way of life. Desedamas is our life project, it means silk and more.
In 2005, we began doing patchwork and painting on silk. The step to fiber art was easy. Maybe it was because silk painting and patchwork offer two tools that blend well and allow us to express ourselves artistically. The way we work has become very stimulating and challenges us every day.
Although we both paint and dye all kinds of silks, each of us has our own voice and make our own individual pieces. Mercè works mostly with silk organza, playing with transparencies, layers of color and subtlety. Cecília works in texture, using different qualities of silk and heavy machine quilting. Our works together have synergies, and match so well.