EXHIBITION THEME   
Ever since our earliest ancestors began applying iron oxide to cave walls and their bodies, the color red has played a major role in art, rituals, and spirituality. The use of red can evoke excitement, danger, anger or love in the West. The color red is associated with purity in India, and in China it traditionally symbolizes luck. Red is also a primary color, crucial to the creation of other hues.
This exhibition invites you to explore the color red and what it represents to you.
EXHIBITION SCHEDULE
International Quilt Festival, Houston Texas October 2023 (Exact Dates TBD)
* Additional venues will be added to the schedule (exhibition will travel through December 2026
ARTWORK REQUIREMENTS
Wall-hung (2D and 3D) and freestanding artwork are eligible. Ceiling-suspended artwork is not eligible.
Pieces may not exceed 96" (8 ft) in height, width, or depth. There is NO minimum size.
All artwork must fit through a standard 34" doorway. 
Wall-hung pieces (2D and 3D) must hang without distortion. Traditional quilt sleeves, stretcher bars, framed or mounted work, and other hanging mechanisms are acceptable. 
Artwork must meet SAQA's definition of an art quilt: "a creative visual work that is layered and stitched or that references this form of stitched layered structure." 
IMAGE REQUIREMENTS
It is critical that submitted images be of the best possible quality: in focus, with clear details, and following SAQA's digital image requirements. Read Tips for Successful Art Quilt Photography and  Submitting Digital Images first!  
For each wall-hung 2D entry (depth is less than 2 inches), submit one full view front digital image and one detail digital image. 
For each 3D artwork (wall-hung or freestanding), submit one overall front image and two detail images (one should showcase the depth)
Full-view images MUST show all the edges along with a small amount of background.  
Digital images must be saved as a high-quality JPEG or JPG file (No TIFF files). Do not use your name or initials in the filename (title is fine). 
Finished images should be at least 2100 pixels on the longest side and not more than 4200 pixels.
Files should NOT exceed more than 12 MB per file for 2D submissions (form max is 25 MB) 
Files should NOT exceed more than 8 MB per file for 3D submissions (form max is 25MB)
Common errors include:
Images that are out of focus or too small
Cropping images too closely on the full-view image. All edges of the artwork  must be visible along with a small amount of contrasting background. Do NOT crop your photo into any part of the artwork as this may disqualify your entry.
Your background should be neutral and not include distracting elements such as hands, floors, studio, pets, pins, etc.
ELIGIBILITY / FEE
Artists must be a current SAQA member to enter this call. $50 USD for up to 3 entries. Entry fee must be paid online before the entry deadline via a credit card or PayPal at www.saqa.com/fees.
QUESTIONS?
If you have questions about this exhibition, please refer to SAQA's Exhibition Guidelines and FAQs where many exhibition-related questions are answered. If you have any further questions, please contact us at calls@saqa.art.
Artist notifications will be sent via email by March 31, 2023 (see Important Dates below for more details).
Important Dates
January 3, 2023 - Online Entry Opens
January 31, 2023  - Online Entry Deadline at 7pm Eastern Standard Time (GMT/UTC-5)   
March 31, 2023 - Notification of Acceptance via email
May 31, 2023 - Artwork to be RECEIVED by SAQA (details provided upon acceptance)
October 2023 - Exhibition Opens at International Quilt Festival Houston
December 31, 2026 - End of Exhibition (work will be returned by February 28, 2027)
About the Juror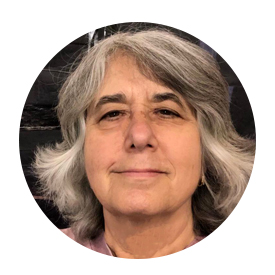 Judy Kirpich is a textile artist working in the United States. Her art has been exhibited in museums in Asia, South America, Europe and the United States. She was awarded the prestigious Quilt National Japan Prize and has garnered numerous first place and best of show awards. Her work has been seen in several solo shows and she has juried Quilt National and Quilts=Art=Quilts. Her most current work can be viewed at judykirpich.com.
Judy founded and operated a design agency in Alexandria, Virginia, for 37 years before retiring in 2015 to focus exclusively on her art. She currently works out of her studio in Lewes, Delaware where she lives with her husband David and her golden retriever Rye.
Additional Eligibility and Guidelines
ADDITIONAL ELIGIBILITY AND GUIDELINES
For information on eligibility and policies, please refer to SAQA's Exhibition Guidelines and FAQs. 
Jurying of the exhibition is by digital image. Information and resources for submitting digital images can be found on SAQA's website, Digital Image Submission Guidelines.
For specific information on shipping for exhibitions, please refer to SAQA's Shipping Guidelines. For non-U.S. members, please refer to Shipping Reimbursement (non-US members).
TERMS AND CONDITIONS
You will be asked to agree with these terms and conditions. "I agree to loan my artwork to Studio Art Quilt Associates, Inc. I understand the costs of insuring and shipping my artwork to the shipping center in Ohio are my responsibility. I further agree to permit the images or detail images and/or all or part of my artist statement to be used in the exhibition catalog, articles, ads, promotions, books, websites, blogs, CDs, current event news coverage, television productions, and/or multi-media productions for and about the exhibition or for and about the shows at which the exhibition may be seen. I confirm, to the best of my knowledge, the artwork entered is original and does not violate any copyright or trademark laws."