Virtual Gallery of selected pieces will be available for viewing on April 1!
We not only speak with our voices, but also with our bodies. It is estimated that 60% of communication is visual. Our nonverbal expressions, such as a raised eyebrow, a waving hand and crossed arms can convey many different pieces of information. From subtle motions to expressive gestures, these unspoken pronouncements add depth to our stories. How can you use body language to inspire and enhance your work?
THIS CALL IS FOR AN ONLINE GALLERY
Open to all SAQA members
No entry fee (up to 3 entries per artist)
No size or date restrictions
Because this is a virtual exhibition, it is critical that submitted images be of the best possible quality: in focus, with clear details, and following SAQA's digital image requirements. Please read Virtual Gallery Submission Guidelines for more details.
We have prepared a handy resource of  Tips for Successful Art Quilt Photography.
About the Curator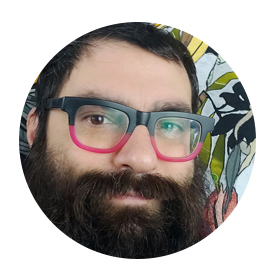 Fuzzy Mall is a self-taught textile artist, who specializes in large scale applique portraiture. Upon graduating from Kent State University, he began his work in painting and mixed media, showing regionally throughout the Midwest.  His focus solely in textiles started six years ago when he and his family moved to Dundas, Ontario, where they currently reside. 
Since that transition, Fuzzy has completed several award wining bodies of work, collecting multiple prizes and grants.  His work has been published throughout the world.  In 2022, you can find pieces of his at Fiber Art International 2022, Quilt Visions, and FAN's Excellence in Quilts shows.