Scroll down to view the image gallery. Click on any square image to launch the slideshow. Be sure to click See Details under each image to find out more about each piece, including additional images, videos, and statements.
Check out the Virtual Tour of the Textile Expressionism gallery - it's a whole new way to experience the artwork!
Virtual Gallery Theme
Textile Expressionism invited artists to expand their visual vocabulary to convey positive and/or negative emotions.  Powerful expressions unfurl to include personal, physical, social, and political contexts.  The art exhibits healing, catharsis, rage, joy, acceptance, and acknowledgment either as self-expression or as a commentary or conversation with the viewer.
About the Curator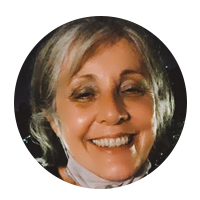 Teresita Leal was born in Buenos Aires, Argentina, where she currently lives and works. Leal graduated as a biochemist and as a Doctor in Physiology; she became an art quilter 20 years ago. Throughout her art career, she has studied art movements and quilting; she most recently added curatorial studies to her educational pursuits.  Leal is also a teacher, offering classes and workshops across Latin America.   Her art pieces have been displayed in quilt festivals, art salons and museums in America and throughout Europe.
Curator Statement
Teresita Leal
Going through the 184 proposed artworks for this gallery resulted in a deeply moving experience. It was diving into the human soul visiting strong feelings and emotions. Selecting less than a fifth of them was not easy, I favored those pieces where the artist's intention struck me most. 
It was a great joy for me to see such personal expression through textiles achieved. How cathartic and healing art can be! SAQA members certainly have a lot to say and our art is the way to connect and share with each other and the outside world. 
In a wide diversity of techniques, everything is present in the content of this strong collection: from war and loss to joy, from very personal feelings to social and political issues, and of course, nature and the pandemic. 
Selected Artists
Anne Bellas (France) - Cathédrale incendiée (Cathedral ablaze)
Helen Blumen (Maryland, USA) - No Words
Samantha Boot (United Kingdom) - Remember, we were safe there
Kathie Briggs (North Carolina, USA) - Portal #1:  Transition
Tamara Buck (Utah, USA) - Except December
Jette Clover (Belgium) - Yellow Wall 2
Jennifer Coghill (Canada) - Awakening
Maryte Collard (Lithuania) - Water in Tenerife
Andrea Finch (Pennsylvania, USA) - Lost Threads
Alisa Golden (California, USA) - Would He Hide Me
Christine Hager-Braun (North Carolina, USA) - Finding Balance
Alexandra Kingswell (United Kingdom) - Joy to the World
Melisse Laing (Washington, USA) - Racial Tensions
Eunhee Lee (Republic of Korea) - X , O
Eleanor Levie (Pennsylvania, USA) - Maelstrom
Viviana Lombrozo (California, USA) - Please Save My Children
Niraja C Lorenz (Oregon, USA) - Green Catastrophe
Regina Marzlin (Canada) - Singled Out
Susie Mcatee Monday (Texas, USA) - This City Never Sleeps
Alicia Merrett (United Kingdom) - Colour Symphony in Five Movements
Lena Meszaros (France) - True Haven
Frauke Palmer (Ohio, USA) - Hawaiian Punch
Claire Passmore (Mauritius) - Für Die Kinder
Karen Ponischil (North Carolina, USA) - Invisible
Wen Redmond (New Hampshire, USA) - What If
Susan Rienzo (Florida, USA) - Sunshine Diaries
Alison Schwabe (Uruguay) - So Many Coffins - Pandemic Pattern #5
Susan Selby (Canada) - Cabin Fever
Norma Slabbert (New Zealand) - Scarred
Sarah Ann Smith (Maine, USA) - Words -->  Power -->  Action
Ileana Soto (California, USA) - Silk Road
Tiziana Tateo (Italy) - La Pudeur
Lenny van Eijk (New Jersey, USA) - Perseverance
Prue Wheal (Australia) - No one wins a war