EXHIBITION THEME  
This exhibition was inspired by a theme submitted by SAQA Member Leilani Purvis
Nature produces an endless array of colors, shapes, and patterns that creatures use to fool the eye. These animals become visible only when they move or are in contrasting surroundings. Creatures may disguise themselves to blend in by changing color on demand or with the seasons, allowing plants to grow on them, or by evolving to look like something else.
The chameleon is known for changing its colors, but many other animals also have this ability, including bugs, fish, octopuses, foxes, and rabbits. Some creatures hide in plain sight by resembling leaves and twigs, or by using disruptive patterning to blend in when needed. How will you explore this marvel of camouflage and adaptation?
Exhibition Schedule
International Quilt Festival, Houston Texas: October 2024 (Exact Dates TBD)
Arizona-Sonora Desert Museum, Tucson, Arizona: July 19th - September 28, 2025
* Additional venues will be added to the schedule (exhibition will travel through December 2027)
About the Juror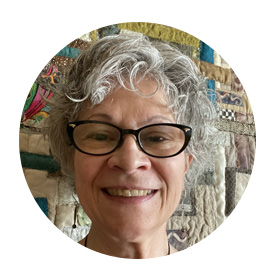 Raised in rural Southern Ontario, Lorraine Roy completed an Honours B.Sc. in Horticultural Science before opting for a professional career in art textiles. Kindled by an early love of hand-embroidery, she eventually learned to 'paint' with fabric using her sewing machine. All her work explores connections between art, science and nature, drawing great inspiration from the biology, mythology and cultural impact of trees, classic symbols of our connection with the natural world.
Lorraine continues to acquire new knowledge and insights about trees, in order to better address and convey our mutual rich and complex kinship. Although mainly self-taught, she has exhibited and presented widely across Canada and the USA, and is the recipient of several provincial and federal grants.