Location
Boulder, Colorado
Bio
I am a recently retired Environmental Scientist who has been sewing my whole life. I learned to sew from my Mother and Great Grandmother and always had access to a sewing machine. I made several traditional quilts in my 20s and a couple of appliqued baby quilts for friends. However, my quilt activity died down for a while after I moved to Colorado until I took a class in landscape quilts. I loved the new techniques and batik fabric that had come on the market and my quilting took off after that. I took a number of classes to get some skills and continue to take classes when I can.

My art quilts are inspired by nature, science, and math. I use sewing, fusing, and stitching to create landscapes and abstracts that I hope will spark interest in others. I am especially drawn to color and continuously try to improve my understanding of color theory and color placement.

All words have meaning and I like to use words as inspiration. I look for different meanings and visions that a word evokes and loves the challenge of making it into fabric. Not that it always works.

I am not a traditional artist so I tend not to draw designs before I move to fabric. I think that my pieces are constructed more intuitively - mostly by trial and error.
In my art pieces, I use commercial and hand-dyed fabrics and have recently become more interested in how hand stitching can enhance my work.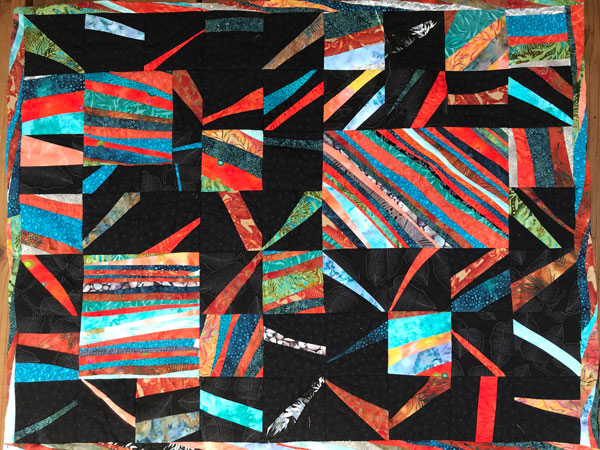 Fibonacci 30" x38" 2010