Bio
Having recently retired from the practice of medicine, I have moved to an oceanfront home, and studio in Hawaii, where the lush foliage, vivid colors, and smiling faces provide inspiration to my goal of creating art which will add beauty and happiness to the world. 
My background in caring for my patients, my extensive travels throughout the world doing medical volunteer work and making friends in many locations and cultures, and my love of the brightest colors of nature all inform my work. Now, as a full-time artist, I work in many media, but working in fabric and thread provides the greatest satisfaction.  I intend to further the appreciation of this amazing art form in my newly adopted state and wherever I go and enrich the lives of fiber artists by sharing SAQA's resources. 
I have taught fabric art (collaged and layered portraits, my easy stained glass technique, and fabric art from photos) in many places in the world, and love to share my easy techniques and application of art principles for quilters.  My own art education is a work in progress as well.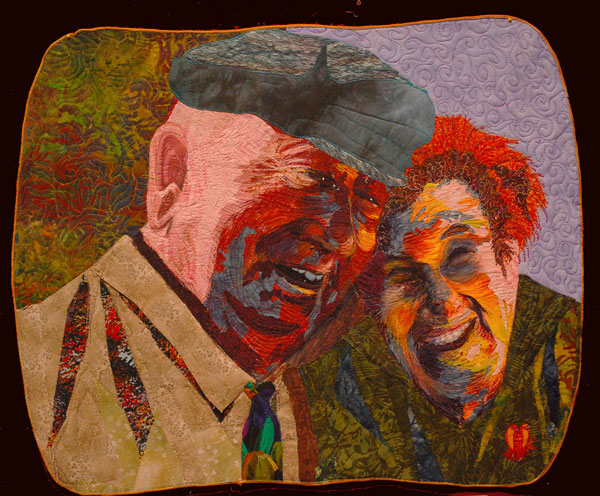 Lovebirds  28"x 36"  2012