Title
Regional Representative
Bio
I have been working through different styles and techniques of sewing since I was a teenager. I have dabbled in making clothes, home décor, and quilts. However, in 2018 I stumbled upon fiber art through a fiber meeting at a local quilt shop. I remember leaving that meeting feeling that I found my people!
I have been in the finance sector for over 30 years, which is restrictive and leaves no room for me to use my creativity. Creating fiber art is where I feel most grounded, and I let my feelings and emotions speak through my pieces. I grew up moving around quite a bit as an Army brat, which has inspired my style and my voice.
I tend to focus on minuscule details of everyday life and create tactile pieces because I want to remember where I was and what I felt at that moment. My first series was inspired by photos my dad took while stationed in Korea before I was born. We were unable to visit Korea together, so my art is my way of paying homage to him by interpreting what he saw. 

I live in Lenexa, Kansas, and I reenergize my creative mind by going to concerts, gardening, walking, biking, yoga, and meeting new people.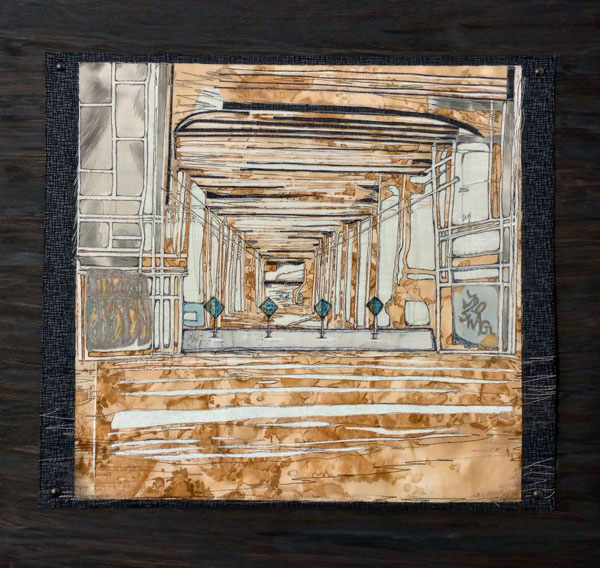 Under The 12th Street Bridge
24" x 24"
2023