Location
Dundalk, Ontario
Bio
My love of fabric and handwork started when I was in my early teens, sewing clothes with colourful cottons and embroidering flowers on the pockets of my jeans. When I discovered quilting many years later, I made mostly smaller items with just a few larger quilts. I loved seeing how colours could be used in various combinations to create beauty. After my first art quilt workshop at my local guild, my mind was filled with ideas and possibilities. It was this introduction to art quilting that really sparked my desire to learn and experiment with different styles and a variety of techniques, including dyeing and painting some of my own fabrics and embellishing with beads and hand stitch. I love batiks as well, and so these often find a place in my creations. Art quilting provides the opportunity and medium to combine my love of photography and passion for our natural environment with textiles and other fibres. Since attending my first workshop, I have been fortunate to learn from a number of wonderful and generous SAQA artists, each with their own unique style. Living in small-town Ontario, Canada, I currently belong to two SAQA pods, and our get-togethers nourish my creative spirit.
As an elementary school teacher, I always hoped to inspire students to be creative, in whatever medium spoke to them. Now that I am retired, I have time to explore and create. My personal goal is to keep learning, experimenting, and to find my own unique voice.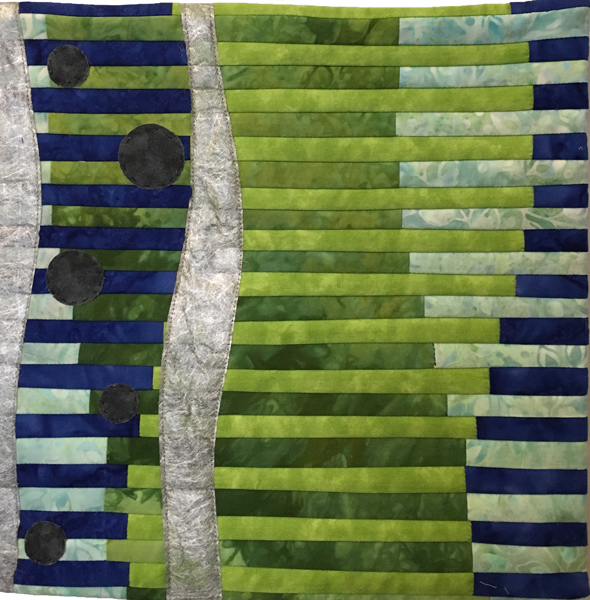 Carbon Neutral 2, 12" x12", 2019.