Written by Jayne Gaskins
Nebraska covers a huge geographic territory. While it's the 16th largest state in the US, the region is rather sparsely populated with most living in the east around Lincoln and Omaha. Counted among those numbers are 40 dynamic SAQA members creating beautiful art quilts and quite a presence in the art world.
The two retiring reps, Peg Pennell and Shea Wilkinson, contend that the regions greatest asset is also its greatest challenge. With only 40 members, the entire region is only slightly larger in number than many of SAQA's larger regions' Local Connections (aka: Pods, circles, etc.). This means they've had to be creative and cohesive to accomplish so very much with so very few. Fortunately, most members drive no more than about two hours to their four annual meetings and everybody knows each other, which is great when looking for volunteers with specific skill sets.
Group activities are major factors drawing the group closer together. Peg proudly cites their contributions to the SAQA Trunk Show challenge (Nebraska won 3rd place!) and their consistent success with auction quilt donations. The March meeting is an exciting event when everyone brings their auction quilts for "show and share" and they're then sent off in one big package. The results are quite impressive. They brought SAQA $2450 in 2016, $2018 in 2015, and $1900 in 2014. Not bad for such a small region! Shea observes, "At every meeting there is a reason to feel good about this group."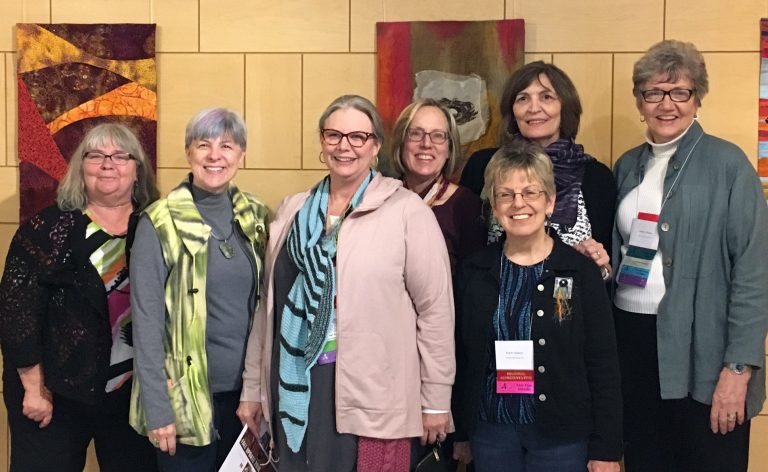 Left to right (photo by Laura Chapman): Debo Hysack, Peg Pennell, Rhonda Baldwin, Gail Dickel, Karen Hansen, Cynthia Levis, and
Joanne Alberda
With a little help from my friends . . .
Often when small groups combine their talents, they can do far more than each could do alone. This was powerfully illustrated in the "Deeply Rooted" exhibit, a product of the Nebraska, Iowa, Wisconsin, and Illinois SAQA regional artists. The exhibit will be on tour in major venues in each of the four states through October 2017. Not surprisingly, this strong exhibit has received impressive media coverage.
The Nebraska region also partners with other fiber art organizations for some great opportunities. Nebraska member, Dori Settles, who is also a member of Studio Design Associates, noticed an overlap in membership, so she suggested the two groups get together for joint activities. Everyone benefited.  They held several joint hands-on workshops in Dori's gallery, and last year fiber artist, Michael James, led them on a tour of Elin Noble's exhibit at the Hillstad Textile Gallery on the University of Nebraska campus in Lincoln. In addition, the combined group visited student work areas, saw both the large high-tech fabric printer and the vintage clothing and design collection housed in special climate controlled storage space. And, of course, they got to see James' studio as well.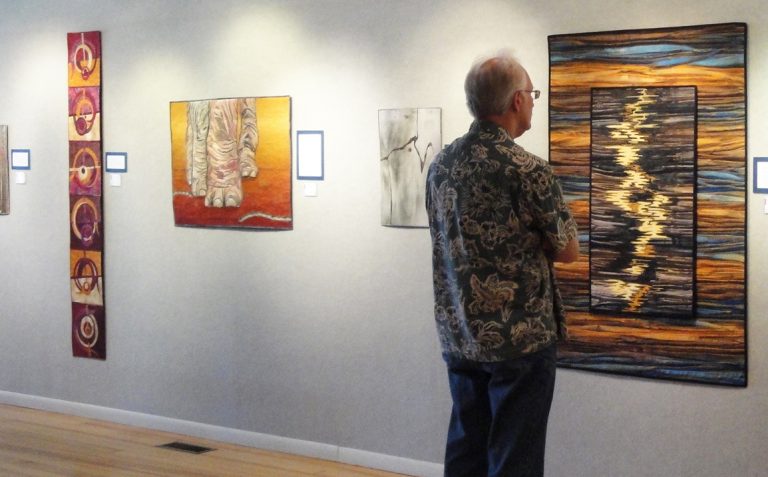 Viewer at the Nebraska Regional "Timelines" exhibition
Getting the Show on the Road
The exhibitions produced by the Nebraska region, alone, are quite impressive, and Peg and Shea attribute much of the success to Cynthia Levis' curatorial skills.  The region produces a traveling exhibit every two years, and Peg explains, "While one is touring, we can be working on the next one." Because these often go to small galleries throughout the state without a shipping budget, Cynthia often drives them to the venues to save delivery costs. The region's most current exhibit, "Passages" proudly opened in April at the International Quilt Study Center and Museum in Lincoln, Nebraska during SAQA's annual conference, and was recognized as an outstanding example of art quilts.
Getting exhibits into galleries isn't easy and requires a high degree of professionality. Recognizing this, Nebraska member, Rhonda Baldwin, produced a hard-bound portfolio book to show potential galleries the high quality of the region's art. The book showcases the works of 13 Nebraska SAQA artists and, given the success it has had in opening gallery doors, they are planning to next add exhibit catalogs.
Spreading the Word
Sharing their skills, Peg writes the monthly regional newsletter and Shea handles the technical side with the region's blog and FaceBook page. The newsletter comes out first and goes only to members. However, the blog and FaceBook pages are open to the public as an outreach to anyone who might be interested in SAQA and want to know more about art quilts. Shea says the key is to keep it simple because many members are not tech savvy. She includes links to resources, as many visuals as possible to draw interest, and make sure the blog is especially informative. In addition to the latest news, viewers can find a list of SAQA Nebraska artists with links to their personal websites, an impressive portfolio of art by regional members, and meeting minutes from the last three years.
Both reps agree about the importance of recognizing members' artistic accomplishments, even if they're realized through another organization. With the blog and FaceBook pages being publically accessible, the other organizations are likely to log on and learn more about art quilts.
Peg and Shea warmly welcome the incoming Nebraska reps, Cynthia Levis and Rhonda Baldwin, as the region looks forward to even more exciting group activates and impressive traveling shows.
---
Written by Jayne Gaskins, SAQA Board Member