Moderated by Julia Graves and Angie Knowles
This SIG will be meeting May, June and July 2022 on the 4th Wednesday at 1pm EDT (GMT/UTC -4).  Feel free to review the available resources or join the Facebook group at any time.
Here's what was covered in 2021 (resources available online – see below):
 Determine your goals for your own online presence (May)
 Identify your target customer/audience (May/June)
 Create/improve a website that works for your business goals and your customer (June)
 Use social media to engage with your customer (July)
 Stay connected with your followers through e-newsletters (August)
 Explore the value of blogging (August)

For 2022, we will be narrowing our focus:
 Intro – identify your goals and develop a roadmap (May) View PDF
 Create/update your website to focus on teaching, selling your artwork, or your particular focus (June)
 Use social media to further your goals with new material focused on YouTube videos and IG reels. (July)
It will be up to you to choose a pathway that works best for YOU, your business goals, time availability, and resources. Each month will focus on a different aspect of your online presence before moving onto a new topic. You can participate in all 3 months or choose which month's focus topics will best serve you and your business. We'll provide a few tools/resources to get the conversation started and to help participants:
 Connect your art online with your target customers/audience
 Connect you with tools and resources to help boost your online presence and reach your business goals.
 Connect with fellow SAQA members through a Facebook Group (discussions, polls, pose questions, request feedback, resource sharing, celebratory posts) and Breakout Rooms via monthly Zoom meetings.
 
Want to learn more?
Join our closed Facebook group just for this SIG
2022 Resources
2021 Resources
Slides from the May 2021 Zoom Sessions (introduction, prompts for Breakout Rooms, and Take Action)
Resource Listing for June 2021's focus on Website
Slides from the June 2021 Zoom Sessions
Resource Listing for July 2021's focus on Social Media
Slides from the July 2021 Zoom Sessions
Resource Listing for August 2021's focus on Newsletter/Blogs
Moderators
Julia Graves started her quilting business, Special Occasion Quilts LLC, in 2007 and teaches, lectures, designs patterns, makes commission quilts and art quilts, longarms for others and sells & services APQS longarm machines.  She is partial to scrap quilts and working with color.  She is located in Leesburg VA and her website is http://www.soquilts.com. She was an Artist in Residence at Empty Spools in 2019, and will be teaching at Empty Spools and Hudson River Valley Art Institute in 2022.  Julia currently serves on the SAQA Education Committee.  
Email: juliagraves82@gmail.com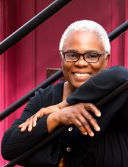 Angie Knowles started working with fabric when she learned to sew at age 9 and fabric is still a constant in her life. In 2008 she discovered the world of surface design and hasn't stopped exploring that world.
She is inspired by nature, especially the beauty of decay. This manifests itself in her work with rust on natural fibers—cotton, rayon and silk. Angie is very active in local SAQA POD's and currently serves on the Special Events Committee.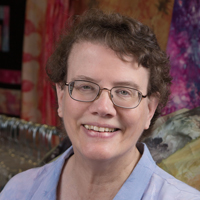 Lisa White Reber has been making something with her hands since an early age. Quilting took center stage beginning in 1994, with dyeing fabric and fibers becoming the focus of her need to create two years later.
 
Starting with the basics, her exploration of dyes has expanded from the tie-dyer's favorite Procion MX type dyes to include discharge (color removal), acid dyes for protein fibers, disperse dyes for polyester, and vat dyes that combine the addition and subtraction of color on natural fibers.  Dyeing more and more yardage led to the creation of her hand-dye business, DippyDyes, in 2008, followed by a regular schedule vending at quilt shows since 2009. Teaching dyeing at many of these shows followed in 2012, with students returning year after year to learn new skills for use in their own creations.
Her investigation of surface design techniques includes using various resists – mechanical, like clamping, tying and stitching, and chemical, like wax, glue and flour – plus screen-printing and painting with thickened dyes and discharge agents. Combining these techniques in as many ways as possible is her plan for the next several decades.
Zoom Connection Information
Time: May 25, 2022 01:00 PM Eastern Time (US and Canada)
        Every month on the Fourth Wed, until Jul 27, 2022, 3 occurrence(s)
        May 25, 2022 01:00 PM
        Jun 22, 2022 01:00 PM
        Jul 27, 2022 01:00 PM
Download and import the iCalendar (.ics) files to your calendar system.
Join Zoom Meeting
https://us02web.zoom.us/j/89050602846?pwd=eWpKclZnZXh2QVRmZ3lzL2ZrZ3ZpUT09
Meeting ID: 890 5060 2846
Passcode: 022959
One tap mobile
+13017158592,,89050602846# US (Washington DC)
+13126266799,,89050602846# US (Chicago)
Dial by your location
        +1 301 715 8592 US (Washington DC)
        +1 312 626 6799 US (Chicago)
        +1 646 876 9923 US (New York)
        +1 253 215 8782 US (Tacoma)
        +1 346 248 7799 US (Houston)
        +1 669 900 6833 US (San Jose)
Meeting ID: 890 5060 2846
Find your local number: https://us02web.zoom.us/u/kbUMGIqiUI
For more information about Zoom, visit our help page: www.saqa.com/zoom