Online Discussion groups
Live Chats are a place where all SAQA members can get together and discuss art and inspiration. We welcome all members of the SAQA community to join in on the conversation!
Get to know members from all over the world, share your ideas about art, get inspired, and see lots of friendly, smiling faces. We will break up into smaller groups and discuss topics related to art, fiber, and creativity.
Join us via Zoom for our next Monthly Live Chat on Friday, July 15 at 4 PM ET. Our special guest, Kathie Kerler, will chat about her art practice and share more information about being a certified quilt judge. Join us for a boost of inspiration while creating new connections with fellow SAQA members via breakout rooms!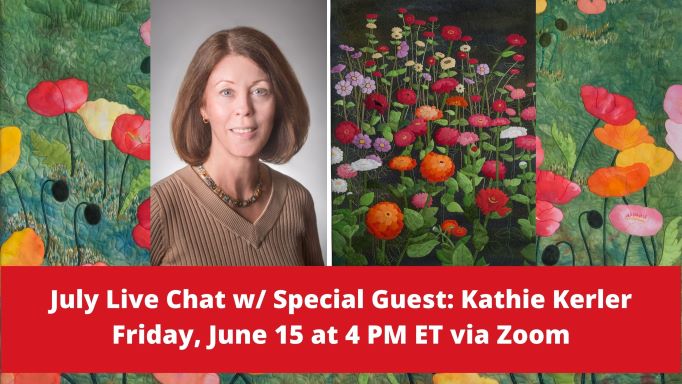 This online chat will use the Zoom video-conferencing platform. If you are not familiar with Zoom, we encourage you to review our Zoom FAQ page.
Live Chats are held monthly on the third Friday. Times will vary so be sure to check the online event schedule for details. Times are listed in US/CAN Eastern time (New York) - time zone converter
For security reasons, the Zoom connection information will only display if you are logged in. If you have any questions, please contact us at info@saqa.com. Due to the online format of these meetings, these sessions are not recorded.