Member Program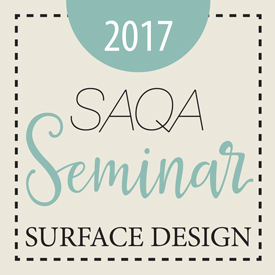 This year's theme is all about SURFACE DESIGN and covers four topics: Print, Paint, Dye and Other Techniques. It includes articles, tutorials, video conversations, and resource links.
Scroll down to view all the Featured Content.
Unit 1: Dye
Whether you use natural dyes such as indigo or a full rainbow of synthetic dyes, there are just so many different ways to add color and design to fabric. 
Unit 2: Paint
Paint is such a versatile way to add additional dimension and design to fabrics. There are many wonderful possibilities for creating with paint including different textures, colors, opacity and application methods. It's great for beginners and maybe a bit less intimidating than dye. 
Unit 3: Print
It's time to print! This may be the most diverse of the SAQA Seminar units. Print techniques include basic mark-making, stamping, using stencils, thermofax, monoprints, rubbing, gel printing even goyutaku — printing with fish.
Unit 4: Other Techniques
The theme for this unit is Other Techniques. The possibilities are endless for adding pattern and design to the surface of fabrics, including the use of digital imagery.