Instructor: Katie Pasquini Masopust
Springboard your creativity by using one of your existing small pieces as the jumping off point to explore the creative possibilities of working in a series.
As a group, we will evaluate all your starting point pieces and discuss their potential for development into a series. Katie will help you to form a plan of your own, considering color, composition, and elements of design, such as contrasts of size, contrast of temperature, contrast of values, layers, engaging the edge, negative space, etc. Katie will discuss how you can start with your existing piece as the inspiration, then simplify the shapes and forms or dive deep for a close up of a portion of it to create a new addition to your series. You can also recreate your existing piece in an entirely new color palette for a different look. The possibilities are endless.
Each piece in your series builds on the previous one. Your series can be creating just one more piece during the workshop or one new piece each day. It is entirely up to you and the speed in which you work. You don't need to complete a new piece, just a start and an idea would be great.
You can work with whatever method you choose and use techniques that you like to use, whether it is piecing, appliqué, fusing, or even stitched paintings! (Have you taken Katie's Stitched Paintings workshop before? This would be the perfect opportunity to work further with the fun process.)
Day Student Tuition: $820.00
Full 5-Day Package*: $2,331.14-$2,552.10
*5-Day Workshop Package includes: Tuition for 5 full class days, 6 nights of dinner, lodging, breakfast, daily cookie and fruit breaks, unlimited coffee and tea, and welcoming wine and cheese reception. Your choice between a room to yourself (single occupancy) or bring a friend and split a room (double occupancy).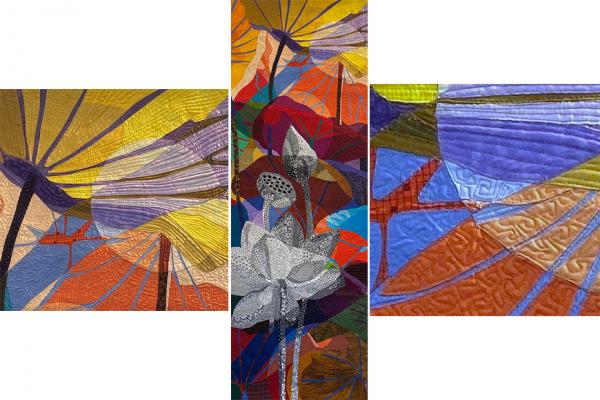 Artwork by Katie Pasquini Masopust
Location
Greenville, New York