We are visual communicators, and sometimes what we want to say cannot be said in words. Words may be insufficient to describe positive, satisfying, or deliriously happy emotions. Or words may fail us when we try to express strong emotions, retell the story of a moment in time, or describe events that leave us scared, concerned or angry. Our world is filled with an enormous variety of both amazingly beautiful occasions, as well as those that test us in more difficult ways. Symbols, color, composition, or other design elements may provide the narrative to communicate the depth of your story. When our words fail us, imagery can present what we are unable to articulate through words.
Artists are invited to create work that engages viewers in a dialogue based on imagery and composition, exploring the idea that in some cases words are not the most effective means of communication.
Artwork must meet SAQA's definition of an art quilt, and there are no other restrictions on the type of eligible work.
In order to participate in this Virtual Gallery Exhibit, you will need to submit two professional quality photographs or an optional short video. If you choose to submit a video, you will also need two professional quality images.


Selection Process:
The Volunteer Curators will jury the submissions based on quality of submitted image and illustration of the exhibition theme. SAQA's exhibition policies relating to images must be followed. Images that do not meet SAQA's exhibition policies will not be forwarded to the Volunteer Curators for possible selection. Because of tight deadlines, it is critical that submitted images are of professional quality, ready to be shown in a virtual gallery; artists will not be contacted for revised images.
THIS CALL IS FOR AN ONLINE GALLERY

View Prospectus
About the Curators
Ellen November
Drawing on the graphic nature of maps, Ellen November's fiber art is cartographic in nature. Art quilts allow her to combine her skills in illustration, photography, graphic design and quilting. Ellen received a BFA from Art Center College of Design in Illustration. She has exhibited in national juried shows with her fiber art. She now resides in San Luis Obispo, CA, on the Central Coast and has curated two shows in nearby Paso Robles.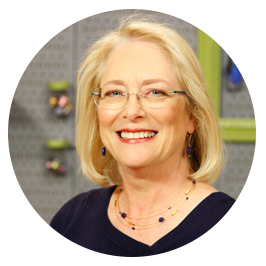 Andi Perejda
Andi Perejda earned her Ph.D. in cellular biology and worked in medical research before immersing herself in the quilting world in 1991. Her quilted works have evolved over time, while she studied design and workmanship. She has earned many national quilting awards and has shown work internationally. As a member of California fiber art groups, Andi has participated in many gallery shows. She has extensive experience as a certified quilt judge with the National Association of Certified Quilt Judges and has taught workshops for 15 years. Her website is www.andiperejdaquilts.com.