Trained as a sculptor and fashion designer, Laura Petrovich-Cheney creates quilt-inspired sculptures to deal with life's ambiguities and uncertainties. Her creative practice embodies the enduring potential for renewal and beauty, even in the most devastating of times. Her material is salvaged wood gathered in the aftermath of environmental tragedies, such as Hurricane Sandy, forest fires in Gatlinburg, Tennessee, and from numerous other unnamed storms in Massachusetts. The wood is from damaged and wrecked houses – cedar sidings, screen doors, kitchen cabinets, wood tables- and repurposed into luminous, patchwork constructions.
Through these difficult situations, the work is filled with vibrant color and uplifting hopefulness. Kaffe Fassett writes, "Laura has that amazing eye that helps us all to celebrate the colour we stumble on in our everyday existence that heightens our lives." The artist never paints the wood, they are as she found them and bear the marks of usage through their nail holes and scratches reminding us that material has memory.
Although Petrovich-Cheney uses materials and tools that are quite different from those used by traditional quilters, her finished works share similarities: objects of beauty and comfort that began as discarded scraps made meaningful by piecing them together into an object of comfort, beauty, hope and resilience.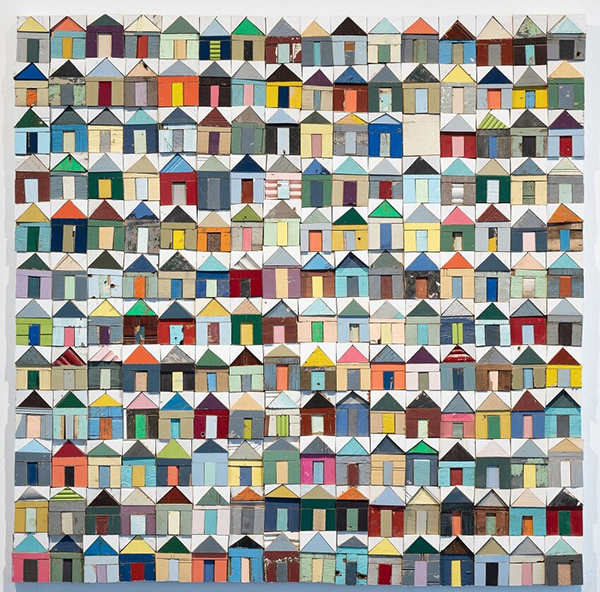 Laura Petrovich-Cheney - Homesick
Location
Lowell, Massachusetts