The touring exhibition is a unique opportunity for the public to see the detail and 3-dimensional quality of Salley Mavor's actual hand-stitched artwork, which was photographed and printed in her picture book, "My Bed: Enchanting Ways to Fall Asleep around the World" (2020, Houghton Mifflin Harcourt). The collection of artwork takes the viewer on an international journey, showing where children sleep in varying cultures and living environments around the world.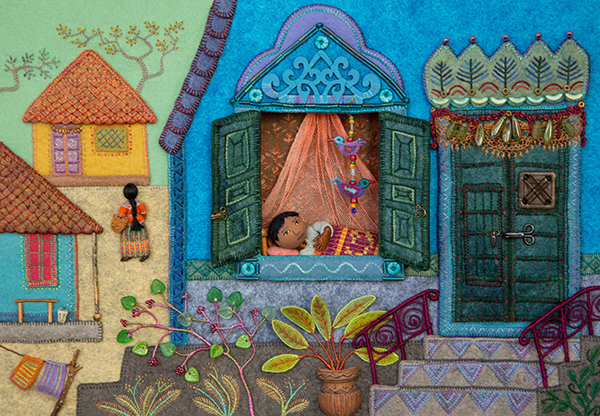 Salley Mavor - India Bedbook
Sept. 11 – Dec. 19, 2020:  Cahoon Museum, Cotuit, MA.
Feb. 28 – May 30, 2021: Cedarhurst Center for the Arts, Mount Vernon, IL
Sept. 15 – Dec. 31, 2021: New England Quilt Museum, Lowell, MA
Jan. 25 – April 9, 2022: International Quilt Museum, Lincoln, NE
October 15 - December 31, 2022: Historical and Cultural Center of Clay County, Moorhead, MN
Feb. 1 – Apr. 30, 2023: Pacific Northwest Quilt & Fiber Arts Museum, La Conner, WA
Feb. – May 2024: Upcountry History Museum, Greenville, SC
July — Dec. 2024: Albany Institute of History and Art, Albany, NY, Bedtime Stitches and Social Fabric will be displayed together.
Location
La Conner, Washington