Material Evidence and Traces
An exhibition of new work, Material Evidence, by Quilt Art starting in 2019 in the UK. It will then be touring and the schedule will be updated as we arrange new venues. 
This exhibition celebrates the adventurous spirit and rich heritage of women artists who make art through quilting and textiles, and in particular that of our pioneering and influential founder member Mary Fogg, who died in 2016 at the age of 95. Each member of the group will take a unique approach to her legacy to create exciting, cutting-edge work which aims to transcend people's ideas of what a 'quilt' is.
A smaller related exhibition entitled Traces will also be traveling from 2019 - 2023.
The exhibitions will be accompanied by a book showcasing all the works.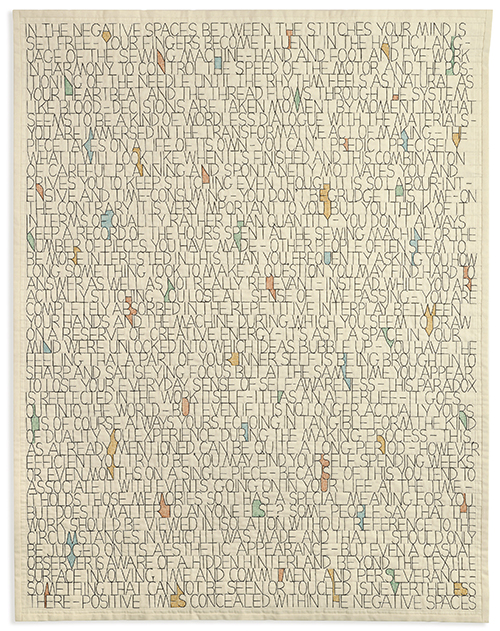 Sara Impey - Negative Spaces, Positive Times
Location
various locations
Exhibition Schedule
Menier Gallery, London, UK 18th - 29th June 2019
Cowslip Workshops, Launceton, Cornwall, 23rd March - 5th April, 2020 - Postponed due to COVID
Fuga Gallery, Hungary, 21th October - 15th November 2020
Museum De Kantfabriek, Horst, the Netherlands, 2nd May - 26th September 2021
Textilsammlung Max Berk, Heidelberg, 6th March - 28th August, 2022
Handwerksmuseum, Deggendorf, Germany, October 9, 2022 - March 2023