INSTRUCTOR: Suzanne Connors
Indigo is an ancient dye derived from the leaves of plants and surrounded by magic, mystery, and folklore. Discover how the leaves 'make blue' by learning about the character and chemistry of the natural indigo vat. The complex chemistry of the indigo vat is fascinating and students will soon appreciate how rituals have grown around the making and using of a successful vat.
The unique 'attaching' of indigo to fiber means it is particularly suited to resist methods of dying, such as shibori, where portions of cloth are closed off to the dye or where the flow of dye is restricted. Different shades of blue build on the fabric after several dips, exhibiting the beautiful graded hues which are so typical of indigo.
Students will learn how to make natural Indigo vats. We will make a Fructose vat and an Iron Vat. I will discuss some of the history of Indigo in the US . We will discuss the proper preparation of fabrics for dyeing and have a pot for scouring fabric. Finally, we will learn many traditional Japanese Shibori techniques. Fold & Clamp (itijime) Stitched Shibori ( Nui) Shibori on the pole (Arashi) Tied Shibori (Kumo) and Stitched and tied (Maki age) I will also show some techniques I learned in my studies in Japan.
Class Dates: March 20 - 24, 2023
                       May 1 - 5, 2023
                       December 4 - 8, 2023
                        May 6 - 10, 2024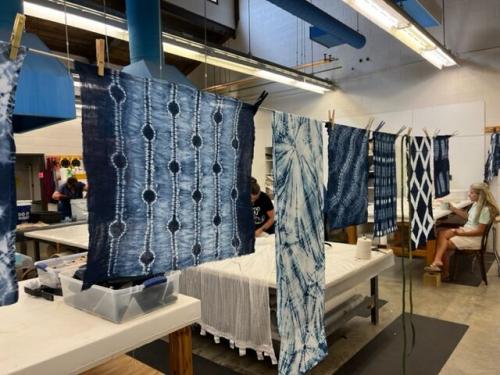 Venue Info
Aya Fiber Studio
170 Northeast Dixie Hwy
Stuart, FL 34994
United States
336-693-4606