Light, both direct and indirect, allows us to see. Light reveals as it radiates and ushers us into worlds of observation and reflection. For Melody Money, light is key to what makes her art "sing." Her goal is "to capture that moment of grace when the angle of the light will resonate" as she celebrates "the quiet loveliness of everyday moments."
In the immersive installation Of Meadows and Blue Skies, Melody envelopes us in a natural landscape of her own artistic imagination. A meadow, she observes, is a place to catch one's breath. With these art quilts, she surrounds us with big skies and tall grasses that offer us a place to stretch and embrace the quiet. She treats us to "the music of the wind in the grasses, the changing cloudscape, the way the light shines on the dandelion puffs in the early morning." The overall effect is "a feeling of limitless time" outside of the hustle-bustle of the everyday.
For Melody, a meadow both "amazes" the senses and provides a quiet sanctuary where we can find restoration and renewal. In The Moment In Between, Melody echoes kintsugi, the traditional Japanese method of using gold to repair broken pottery. As Melody explains, this method "is a way of honoring the break and becoming stronger with the repair." Her "river of gold" and "white triangles" of birds flying above invite us into the meadow's power of contemplation.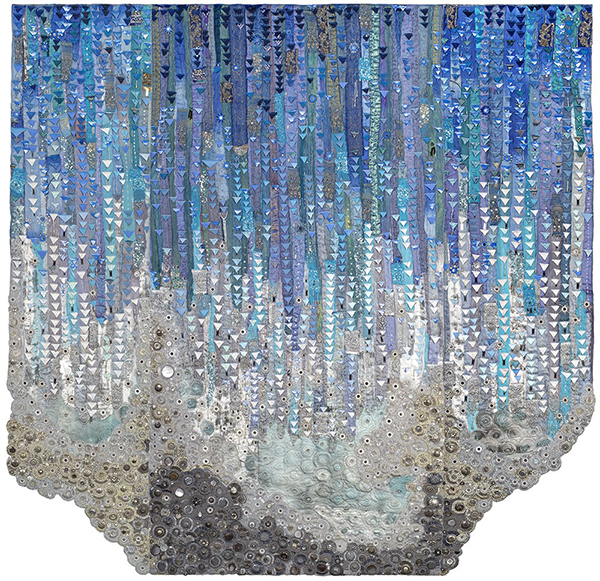 Melody Money - Rain
More Details

The museum is has reopened with limited capacity and limited hours but you can also view this exhibit online
Location
San Diego, California
Venue Info
Visions Art Museum
2825 Dewey Rd. Suite 100
San Diego, CA 92106
United States
619-546-4872