Time
2:00 pm EST (GMT/UTC -5)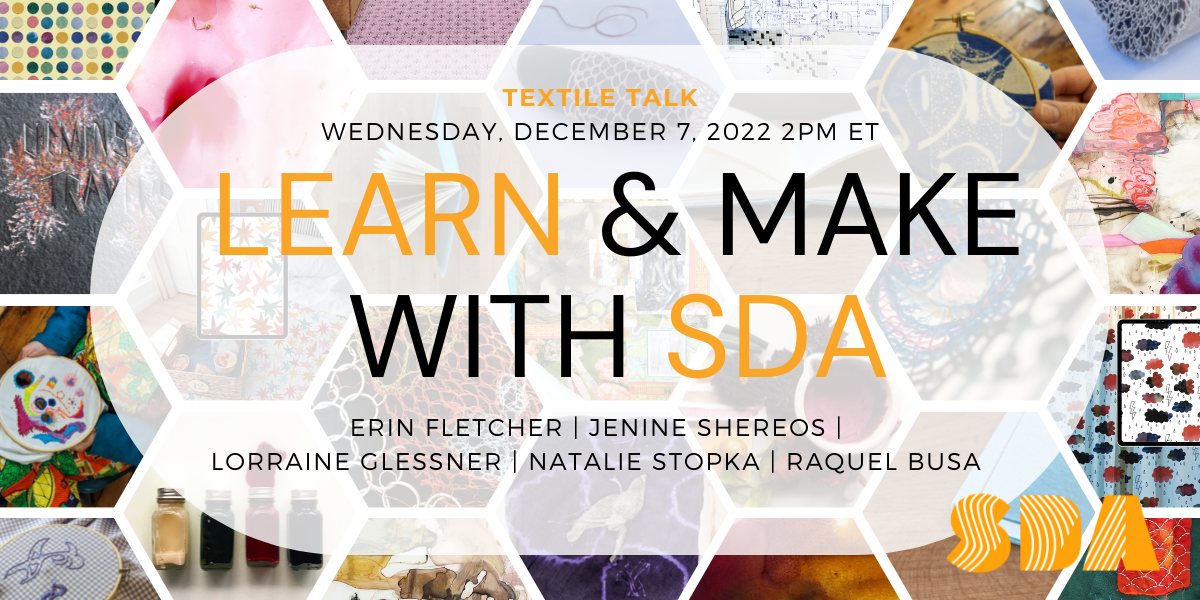 From mark-making to sculpture and from natural inks to the latest digital technologies, the Surface Design Association (SDA) presents our inaugural online workshop series starting in early 2023. Get a sneak peek from our workshop instructors and learn more about their personal art practice. 
Queer Latinx illustrator Raquel Busa (she/her) strives to create work representing BIPOC and LGBTQ families. Her workshop will cover the basics of Procreate - a digital illustration iPad app - and how to create digital repeat patterns for fabric plus tips for artists to create, enhance, and share projects. With a diverse art background, Lorraine Glessner's (she/her) love of surface, pattern, mark-making and image has led her to combine disparate materials and processes in her work. Her workshop will explore mark-making as a vehicle for the discovery of form, materials and ideas. Artist and educator, Natalie Stopka (she/her) explores the brilliant hues of natural drawing and writing inks by incorporating plant dyes and natural pigments into her work. In her workshop, participants will concoct both earth pigment and natural dye-based inks to create their very own palette. Jenine Shereos (she/her) uses textile techniques alongside natural and organic materials to explore the complex and tenuous relationship between humans and the natural world. In her workshop, participants investigate the potential of knotless netting as a way of both revealing and concealing form. Book artist Erin Fletcher (she/her) is the owner of Herringbone Bindery in Austin, where she crafts one-of-a kind fine bindings and small editions for various clients and institutions. Workshop participants will explore Tue-Mouche book binding from start to finish and ways to embellish book covers through embroidery. In her SDA workshop, presenter Joy Ude (she/her), who is not available to participate in this Textile Talk, transforms plain fabric into uniquely personalized surfaces with embroidery and applique. The event will be moderated by Davana Robedee.  
SDA's workshop series is open to members and non-members. More details will be available on the SDA website in early December. This Zoom event is free and open to the public; registration is required. 
Textile Talks features weekly presentations and panel discussions from the International Quilt Museum, Quilt Alliance, San Jose Museum of Quilts & Textiles, Studio Art Quilt Associates, and Surface Design Association. The programs are held online at 2 p.m. Eastern (11 a.m. Pacific) each Wednesday.
Interested in supporting Textile Talks?
Please donate to help defray costs for the participating organizations.