Time
2-3pm EST (GMT/UTC -5)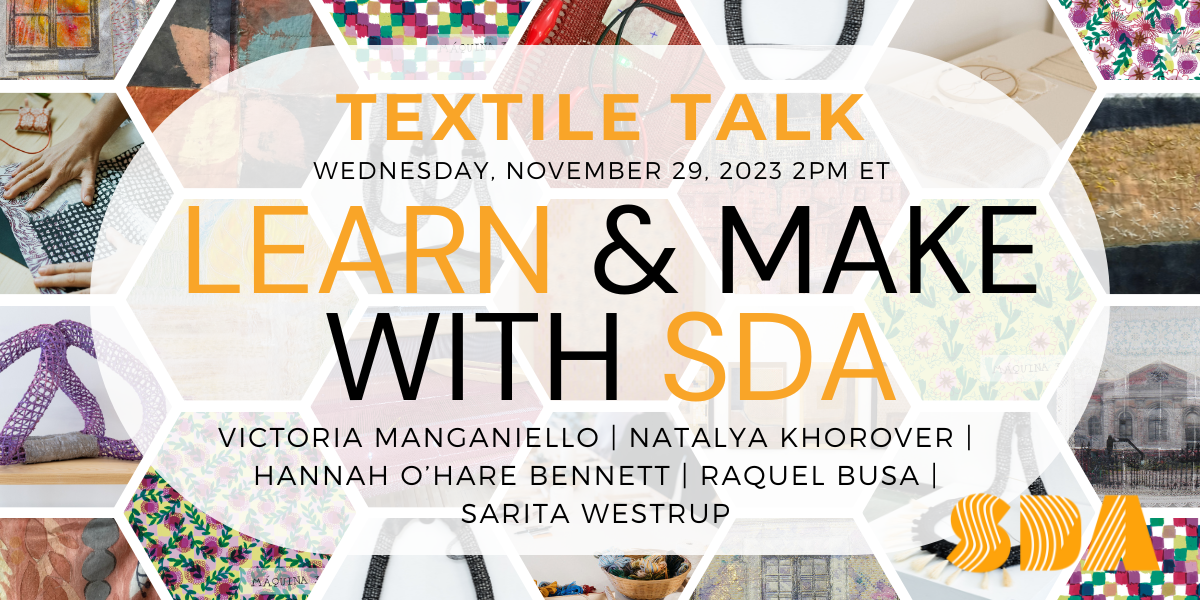 From basketry to natural pigments and from recycled materials to the latest technologies, the Surface Design Association (SDA) is proud to present our 2024 online workshop series! Get a sneak peek from our workshop instructors and learn more about their personal art practices.

Textile artist, historian, and educator Victoria Manganiello explores materiality, technology, geography, and storytelling through hand-woven textiles. Her workshop will delve into conductive and resistive yarns for weaving circuits.

Natalya Khorover is committed to using recycled and repurposed materials. Her work uses vintage lace, plastic sheeting, and candy wrappers collaged with machine and hand stitching. Natalya's workshop will explore how to reuse dryer sheets by painting, writing, stamping, screen printing, and stitching them.

Hannah O'Hare Bennett utilizes natural dyes and pigments to create mixed media works that honor the natural world. She'll be teaching us how to use earth pigments and soy milk as a binder to apply rich colors to natural fabrics.

Raquel Busa creates illustrations representing BIPOC and LGBTQ families. She uses collage, sewing, and embroidery alongside digital mediums. Her workshop will build upon Procreate - a digital illustration iPad app - basics. She'll teach us how to create full drop pattern blocks to print on fabrics and other surfaces.

Sarita Westrup uses mixed media in her woven sculptural forms. Her art reflects her upbringing in the Rio Grande Valley on the Texas-Mexico border. We'll explore three-dimensional sculptural forms through twined, arched baskets during her workshop.
Textile Talks features weekly presentations and panel discussions from the International Quilt Museum, Quilt Alliance, Studio Art Quilt Associates, and Surface Design Association. The programs are held online at 2 p.m. Eastern (11 a.m. Pacific) each Wednesday.
Interested in supporting Textile Talks?
Please donate to help defray costs for the participating organizations.