The Fiber and Stitch Art Collective is a group of central Virginia artists based in Charlottesville who are also members of Studio Art Quilt Associates (SAQA), an international organization. The artists use fiber and thread in a variety of ways to create two and three-dimensional works.
In addition to providing support to each other, the group aims to provide people in central Virginia an opportunity to experience the diversity of art quilts and the unique use of fiber and other forms of stitch art.
Using Van Gogh's "Vase with Red Poppies and Daisies (1890)" as an inspiration, each artist interpreted the image in a unique way. Whether it was the palette, the composition or a portion thereof, or a personal experience, each artist found aspects to explore.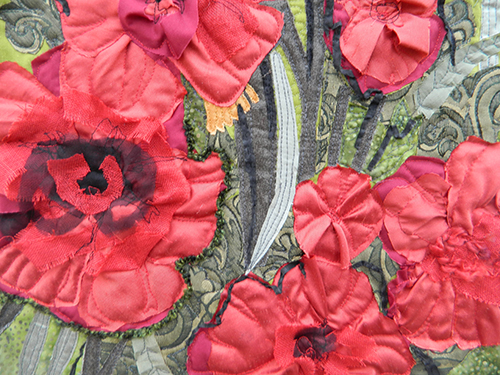 LIz Schneiders - Riot of Poppies (detail)
Location
Harrisonburg, Virginia